This news article was automatically parsed from the official Albion Online website.
Posted by Loweeeee (Source)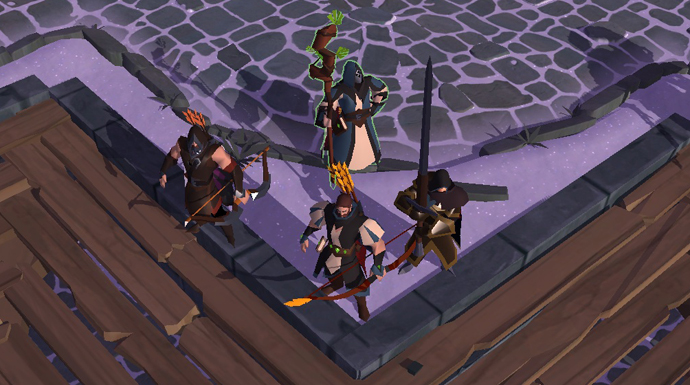 The Albion community has been hard at work, grinding their way up the standings with every hard fought GvG, roaming ganks and massive open world fights.
Everyone is eager to leave their mark upon the face of the game, never to be forgotten. This week's three Legends include some heroic exploits, near death experiences and bloody slugfests.
This Week's Legends
Blackthron the Marauding Axeman
A hardy traveller and ore miner, Blackthron spends most of his time in the cold and rocky mountains of Albion. Seeking the precious metals required to craft his enchanted gear and the materials required to keep the Red Army's war machine ticking.
To conquer the elements and any fool dumb enough to cross his path, he has chosen to wear a very unique build. Clad in soldier armour, from head to toe, wielding a ferocious one handed axe and protective shield, he has both damage and sustain in abundance. Coupled with the Vampiric Strike from his axe and the Bloodlust ability on his armour, he can heal up almost all the damage done to him, ensuring he and his opponent are in for a long drawn out duel.
If you venture out in to hills, be on the lookout for this Legendary axeman, for not many see him and live to tell the tale!
Mon the Undying
Here we see Mon in his natural habitat, a chaotic large scale combat. This particular battle is of great important to his guild, Vendetta, and their alliance, for they are attempting to hold a castle that they have captured. It is under siege by Echo of Silence, who have come with a great deal of numbers.
Filmed from Mon's point of view, we get a great spectacle of the unfolding battle and the important part he played in the attempted defence of the castle. Throughout the siege, he is constantly changing his position, from being the frontlines to pushing on the flanks. His aggressive style puts him in harm's way and close to death quite a few times. In the end, this Legend makes his escape and should be mighty proud of his exploits on this battlefield.
Brick the Hero Healer
As if we needed another reminder to be thankful for those of the community who choose to play the role of healers… but here is one anyway! In a very close bout with Gentlemen, Brick comes up huge with a hero play to save his teammate, Vade. Surrounded by no less than 4 enemies, Vade has a tiny sliver of health left after coming out of Iceblock. Thankfully though for him, our legendary hero, Brick saves the day.
If running into middle of the enemy team multiple times to save your teammate doesn't count as a heroic or legendary action, then I don't know what does. At least Brick can thank his guildmate for keeping him busy but I am sure the rest of his team is extremely grateful to have such a good healer on their side. Every healer can be a hero, but Brick has become a Legend!
Come Back Next Week For More - Submit if You Want to Become a Legend!
That is all for this week's Legends of Albion spotlight. I hope you have enjoyed it and agree that our chosen heroes definitely fit the title of Legends.
If you would like to be featured in next week's spotlight, send all submissions to:

Loweeeee on the Albion Online Forums
OR
@Loweeeee on the Official Albion Online Discord
Let us know what you think of this week´s Legends in the comments below!