This news article was automatically parsed from the official Albion Online website.
Posted by Loweeeee (Source)
The stars in this week's spotlight, are none other than your fellow community members. To be completely honest, we were not sure what kind of a reaction we would get from a weekly spotlight such as this. We even had fears that there would be no response at all! But once again, the Albion Online community has outdone itself. We have had an enormous response and a multitude of submissions for only the very first week. We really couldn't be happier!
This Week's Legends
All Hail The Pony Lord!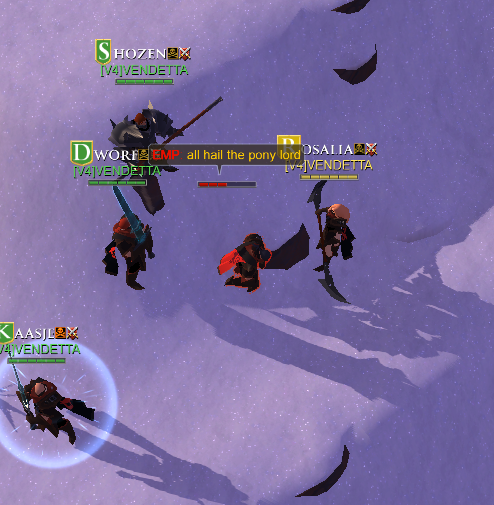 Don't let the name deceive you, the Pony Lord is no foal! You may know him by his other name, Rosalia. Once this mean horsie has you in his sights, you might as well give up instantly. Here we can see one such victim, kneeling before his hoofed Overlord. Accompanied by his troop of guild mates, Rosalia is known to ride over all competition, before stopping for a short graze in the pastures.
Taking It Down To the Wire!
Phew! That was a close one. The final blow in a hard fought GvG, Torks executed his opponent and lived to tell the tale, barely. Talk about cutting it close, right!?
Getting the game winning play on camera and surviving within an inch of your life is no easy accomplishment, and as such, Torks has earned himself a place on this week´s list.
Wombo Combo Out Of Nowhere!
A play such as this is every PvP'ers wet dream. A huge stun landing, followed by an even more massive area of effect root, topped off with some well-coordinated AoE spells. As our very own Axolotl would say, "Awesomesauce!"
Those poor Blackwaters, they got absolutely slaughtered. Remember folks, avoid the choke points! They are literal death traps. GG WP Echo of Silence, welcome to the list!
Come Back Next Week For More - Submit If You Want To Become A Legend!
That is all for this week's Legends of Albion spotlight. I hope you have enjoyed it and agree that our chosen heroes definitely fit the title of Legends.
If you would like to be featured in next week's spotlight, send all submissions to:
Loweeeee on the Albion Online Forums
OR
@Loweeeee on the Official Albion Online Discord
Keep an eye out for our next edition of the Legends of Albion and see if you have made the cut!
Let us know what you think of this week´s Legends in the comments below!