This news article was automatically parsed from the official Albion Online website.
Posted by PrintsKaspian (Source)
The next Guild Season kicks off on September 25! (See the full schedule here). The standalone Energy Surge Season will run for approximately 10 weeks, and will have a unique structure and unique rewards, which include the ability to designate an HQ Hideout for guilds who earn enough Season Points, plus four different brand-new avatars, a one-of-a-kind winner statue placed in the open world, and more. Read on for all the details!
Unlock Your HQ Hideout
In our last Dev Talk, Game Director Robin Henkys introduced HQ Hideouts, a new feature that allows guilds to designate a single Hideout as their primary headquarters. As these special Hideouts are highly resistant to attack, they offer smaller guilds a chance to gain a foothold in Albion's black zones for as long as they are properly maintained.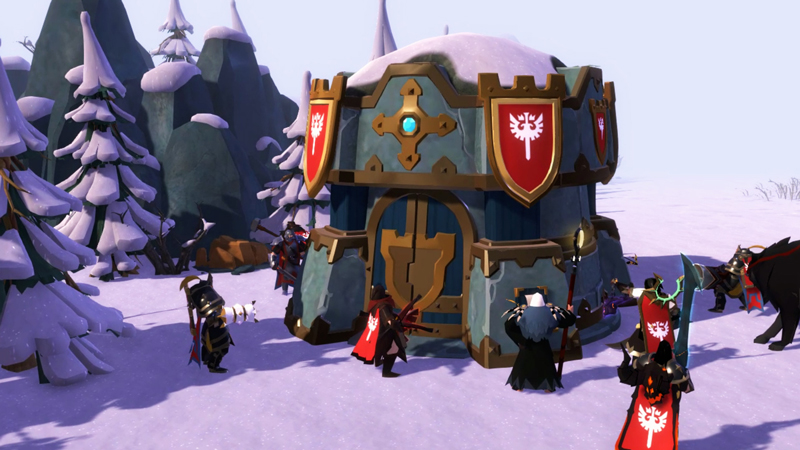 While this feature is still in the development phase and many more details are forthcoming, the ability to claim HQ Hideouts with the next update will be based on total Season Points earned during the Energy Surge season. The following Season Point thresholds apply for where HQ status can be assigned in Season 14:
Quality 6 zones (inner circle of Outlands): 200,000 Season Points
Q5 zones: 120,000 Season Points
Q4 zones: 80,000 Season Points
Q3 zones: 40,000 Season Points
Q2 zones: 20,000 Season Points
Q1 zones (outer ring of Outlands + all Roads of Avalon zones): 10,000 Season Points
Going forward, the ability to assign HQ status to a Hideout in a given zone will be dependent on points earned during the prior season. We'll have plenty more details on this feature in the coming weeks, but for now, you can prepare for the Energy Surge season by checking out the complete list of zone quality levels in this updated forum post.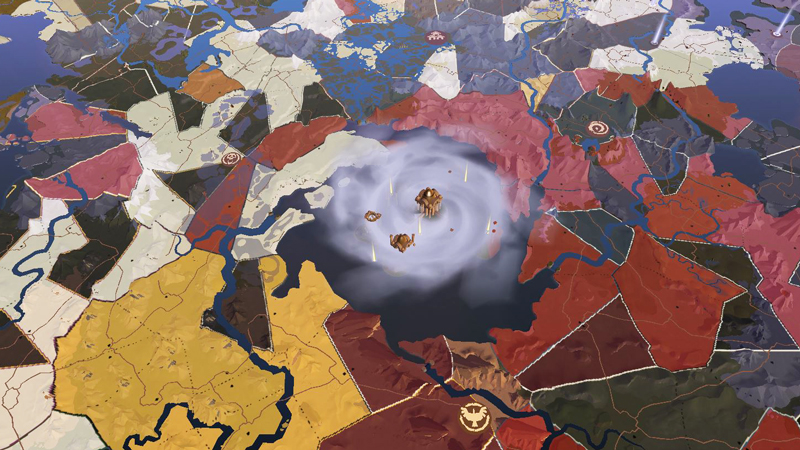 Bracket Rewards... and an Open-World Statue
As always, members of guilds who reach a high enough rank during the season will receive special rewards. This season, these rewards will include the powerful Tower Chariot battle mount for guilds who reach Silver Rank or higher, unique Crystal, Gold, Silver and Bronze Energy Surge Season Avatars for all ranks Bronze and higher, and Tomes of Insight. Here's the full rewards list (click to expand):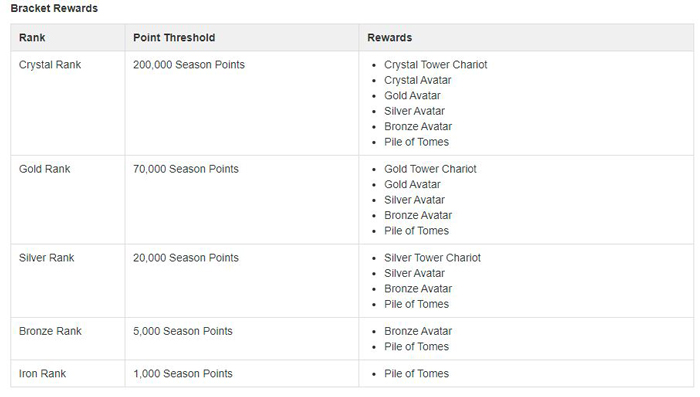 Additionally, the top five guilds of the season will receive a 90-day Fame Buff to gathering and PvE, and the top three guilds will each receive a season winner statue with a permanent place in Albion's open world! Here's the detailed breakdown (click to expand):

The first-place winners will be able to select the design and placement of their statue in collaboration with our team after the season ends, while the second and third place winners will receive a standard statue with their guild logo, which can also be placed in the open world in collaboration with our team. Take advantage of this one-of-a-kind opportunity to make your guild a permanent part of Albion's landscape!
The new season starts September 25 – get ready to rack up Season Points and unlock these unique rewards!