This news article was automatically parsed from the official Albion Online website.
Posted by Loweeeee (Source)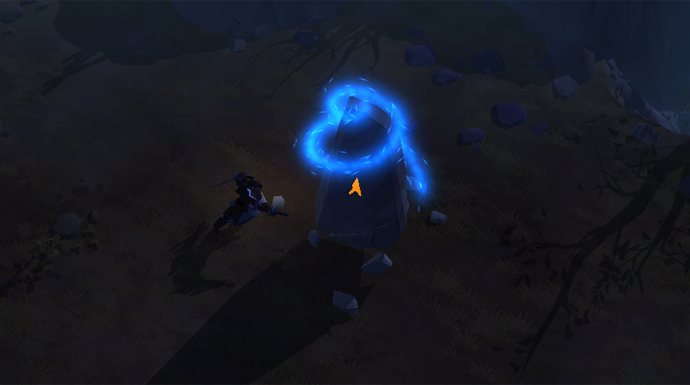 Finstack Breaks Away From Reign Alliance Amidst Gloomy Future
The REIGN Alliance suffered a slight set back this week after Finstack, one of the major guilds in the alliance, decided to go its own way. There was quite a bit of speculation from the general population of the community as to why this came about. Some theorized that it was to secure their vast amount of territories that they had successfully taken from the Atlas Veto Alliance through allying with close neighbours such as Nilfgaard. In the end, Whated revealed to me that it was more to do with Finstack wanting to show its strength as a guild and that their success was not reliant on their allies.
He stated: "It was a lot of drama and people thought that all our achievements was only because we were in a big alliance. In reality we did it all alone and we barely engaged in any operations with the alliance."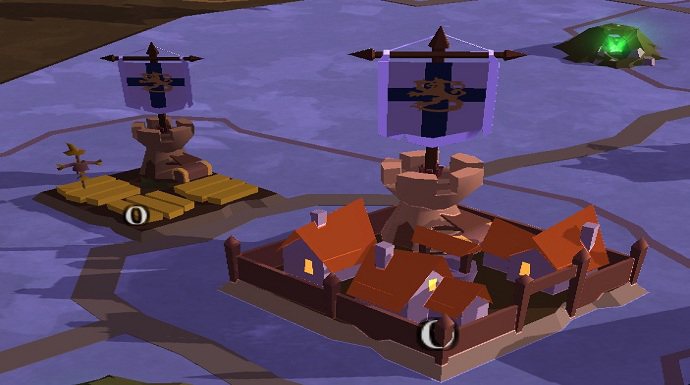 So with Finstack gone, will it weaken the Reign alliance? Perhaps it might in overall terms of size and numbers, but on a practical level, not much will change. However, there was more said about the alliance's troubles from Finstack's point of view, with Whated commenting, "We had a lot of conflicts, not within the guild, but inside the alliance." A sign that maybe the Reign Alliance is not as solid as it seems.
The Finstack drama does not end there though, as rumour has it that Finstack is preparing to disband altogether. Major players from the guild have already moved on with the likes of Somnic and Whated joining Red Army. Other sources claim that a great deal of players from Finstack have hooked up with Vendetta also. Keep a sharp eye on the guild scene this week, as another major faction may be dropping from this test.
War Between V4 Alliance and the Swamp Nation (Formally the BIG Alliance)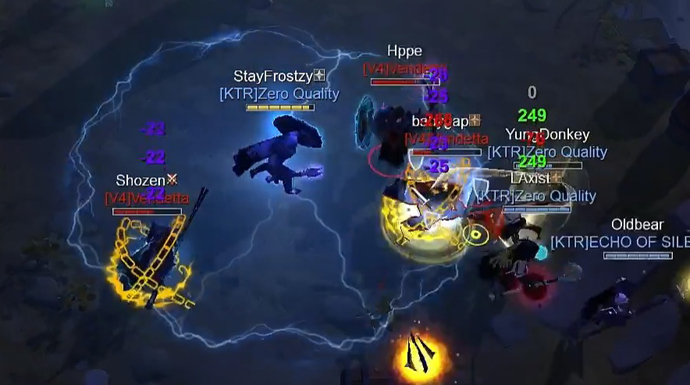 As covered briefly in a short update in last week's War Report, the V4 Alliance [Vendetta, Chicken Kiss, Aegis] launched a huge offensive against the BIG Alliance [Echo of Silence, Valhalla, Lusitani]. Territories changed hands back and forth at the beginning, with either side reacting to each other's moves. Since then however, the BIG Alliance has ceased to exist and with the disbandment of the Zerg Police Alliance, Echo of Silence joined up with Zero Quality and Honor 'n' Glory, leaving Valhalla and Lusitani to the dogs.
As you would expect, Valhalla and Lusitani have been beaten and pushed back to their last remaining territory. They were unfortunate victims of this war and are now fighting for survival in the Outlands. Either through poor diplomacy or just having shoddy allies, they were left in an incredibly vulnerable state.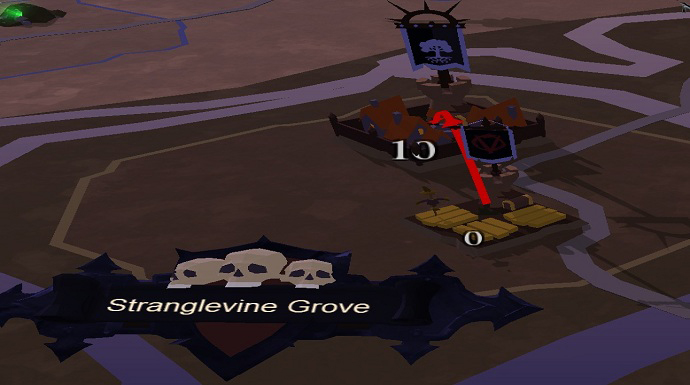 AEGIS joining the V4 alliance is sure to strengthen their side, even with the poor experience they have had so far this test. Vortech spoke to me on Aegis' behalf, commenting that:
"We feel the area is so imbalanced that we've set our sights further down the line to another region entirely. We'll be taking steps to secure a new home territory and establish ourselves elsewhere. We feel this is the better move regarding our test this phase, the desert is no fun, T2 is too far, and imbalance between zones is real."
The V4 Alliance is sure to welcome them with open arms, as their wealth of experience as a guild should not be over looked. Vortech added, "As for Aegis, we're excited for some new scenery with our brothers in [V4]." This new addition to the V4 Alliance may bring great success to them in the future. Though, in terms of territories gained since the start of this conflict, Vendetta already has the upper hand as they have all but secured Welcoming Shadows and the neighbouring lands. They achieved this by taking the territories left behind by Lusitani and are now seeking to remove Valhalla from their last city plot.
Out in the open world, it is a completely different story. V4 has been on the receiving end of some extremely humbling battles, with one in particular standing out. Before the BIG Alliance was disbanded, one battle lasted nearly 30 minutes which accumulated in 221 deaths, with 200 of those on the side of V4. Another fight between these two factions that should be highlighted, resulted in almost 1.3 million kill fame being given out. A total of 55 kills, with 37 of those being dealt by Echo of Silence. Things seem to have quietened down though for the moment but it could get real hectic, real fast if either side commits.
Red Army Looking To Lock Horns With The Exodia Alliance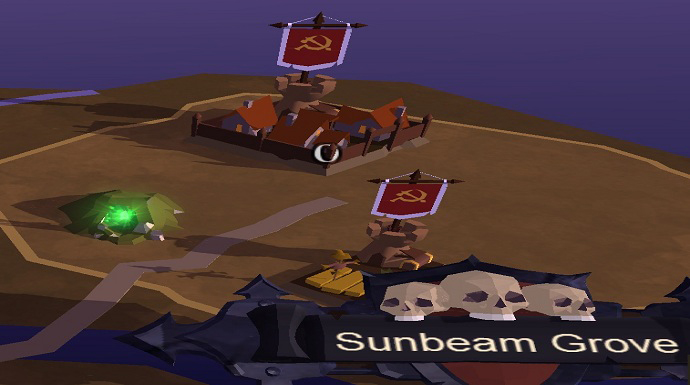 With Envy and Red Army virtually unopposed on the island continent in the Outlands, things seem a little too laid back for their liking. As previously mentioned in another report, Red Army has already advanced in the North. This time, however, they have set their sights on South part of the so called 'banana' continent of the Outlands. This will inevitably lead to major conflicts with one of the stand alliances of this beta, Exodia.
Exodia has just successfully defeated the now late, Rival Alliance, with a little help from Zero Quality. After many successful fights and GvGs, this consortium of guilds saw off Aegis and sent them packing with their tails between their legs towards the V4 Alliance, before claiming the last remaining territories in the region. The alliance has no time rest and admire its triumphs with Red Army battering at the door. This will undoubtedly, test the true strength of Exodia, due to how dominant Red Army was in last beta and how well they are doing in this test as well.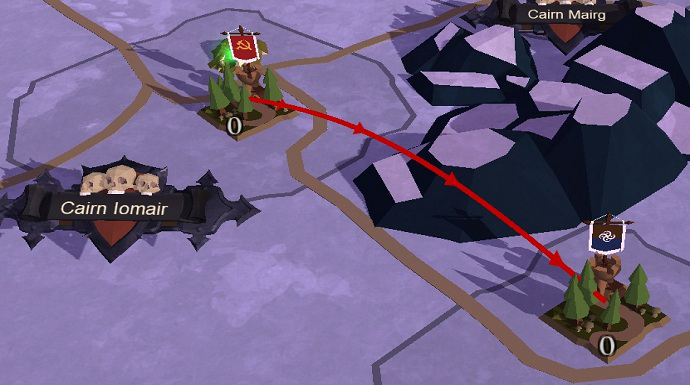 Red Army has already taken one territory and has immediately launched an attack upon Nox Noctis. Fortuitously for the guys in red, The Gentlemen have also begun attacks upon Nox Noctis, almost parallel to Red Army's. This may be the beginning of another great Albion feud between two strong alliances.
Tryhard Alliance Seeking To Squash Nearby Competition
The relationship between ZORN and Titans this test, has brought an incredible amount of success to both members. After beating the FEAR Alliance, they are now looking to clean up shop, on each of their borders. Titans has been slowly moving in against the Sun Guild while Zorn is currently battling it out with Chromaggus. Now, in terms of size and overall strength, it is very much a David versus Goliath story for the smaller guilds. It is not impossible but it sure looks that way.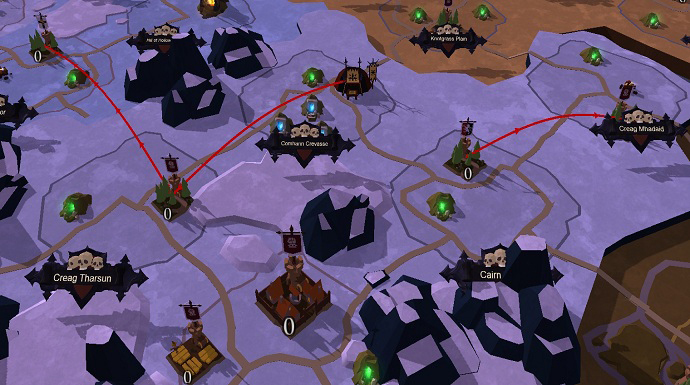 At the moment though, Chromaggus is actually the one swinging punches at their much larger opposition. With outgoing attacks on a few of Zorn's territories, Chromaggus is making sure that they will not go quietly in to the night.
On the other side of the Tryhard block though, Finstack has been testing their defenses and have been largely successful thus far. With Finstack's future still in the balance, it could be a lucky break for Zorn and Titans. There is definitely other foes in the area that might seek to have a go at this beta's new alliance, if they show any signs of weakness.
That is all for this week's War Report! If you have any more to add or just want to have your say on the matters covered above, don't be afraid to leave us a comment below.