This news article was automatically parsed from the official Albion Online website.
Posted by Loweeeee (Source)
What's Been Happening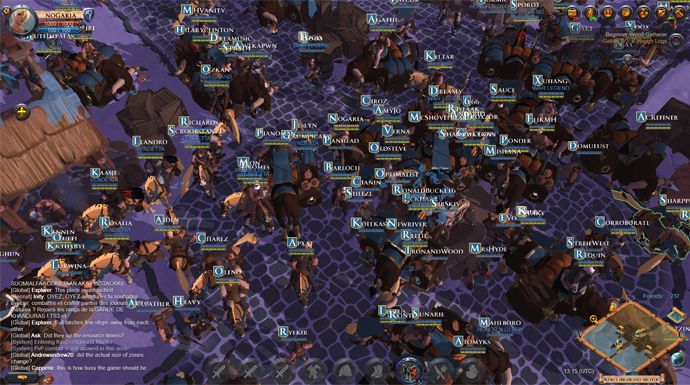 After a brief respite, the world of Albion Online is alive again! Every town, city and zone is full to the brim with adventurers of all shapes and sizes, looking for fame and fortune. Many of us though, are still stuck fighting overgrown toads and thinning the massive herds of impalas, or are just finally finding a full node of tin ore. Although the hustle and bustle of life in Albion is not unusual to some of us founders, the new world layout and incredibly immersing biomes certainly are!
Lands are already being claimed by a large number of guilds. At the writing of this article, currently 23 guilds have captured territories, deep in the Outlands. War is brewing in Albion, the Guilds are laying the foundations upon which they will shape the future of the new world. Old and new guilds alike have already begun to leave their mark on the blank canvas of this new beta.
The Guilds of Albion Spring into Action!

According to reports, Nilfgaard were the first guild to get their hands on a piece of real estate in the Outlands. They were followed shortly by Vendetta in second and Gentlemen in third. Many other guilds were quick to follow, such as well known guilds like WarLegend, Retribution, Honor and Glory, and newer guilds like Suicide Squad, SUN and Purple Dragons.
There are many more guilds that I haven't named who have claimed territories and obviously there is those who are still yet to do so. Some guilds are opting to avoid settling in the Outlands this early though, due to the obvious logistical challenges that they face and the sheer amount of effort it requires.
Even some of the guilds who have now claimed territory, had a few hiccups on their way. Envy, one of the biggest and best guilds from last beta, had to wait six hours for the territory they wanted to become available before they could settle in to it. Shinigami, from WarLegend said, "We had a funny set back with our initial settling in black zone, but are having a good time and plan to lock the zone down!".
I also managed to get a word from Vendetta's Scythian, who had this to say:
"We came into this test very well prepared... We had clear goals and a strategy on how to accomplish them. However we managed to get the zone we wanted without any competition and have come to call it home. Our gathering and PvE teams are really hitting it off, with some of the old guard proving once again that they can compete with the best out there and the recruits are stepping up and showing their worth."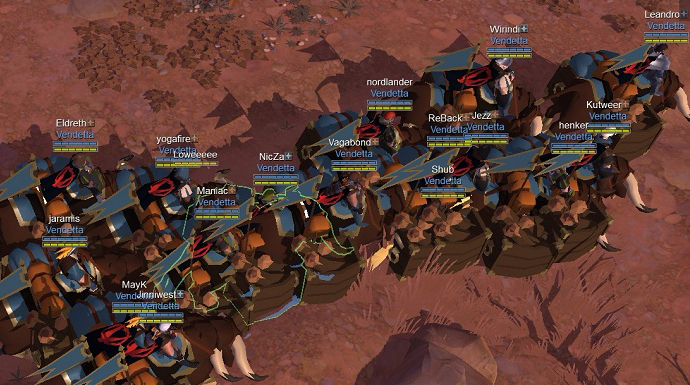 Claiming territory this early in to the beta's infancy is no easy task. Hordes of fully laden oxen could be seen gathering in cities, before departing in massive convoys towards the farthest reaches of Albion. Guilds would more than likely have their silver tax set very high in order to amass the funds required to purchase a land slot. A heavy investment indeed, but it is sure to pay off in the long run, or so they hope.
Other guilds however have employed a different strategy. Looking to secure wealth and stability in the safety of the Royal Islands, some have opted to operate out of the cities for now, all the while building their guild islands. One of these such guilds is the Academy, which was recently featured on our Guild Spotlight article. Stormlord, the Guild Master of Academy commented, "We really had fun seeing the ideals of the Academy take shape. This is going to be an awesome beta!"
The Frontlines Are Being Drawn
Even though the world of Albion still has its shine and that nice new smell, there have already been some sizeable skirmishes taking place. Now, I am not just talking about your average unsuspecting gatherer getting ganked and beaten to a pulp by a few bandits, but I mean proper open world fights with guilds really going at it. This is obviously remarkable considering how early in to the test we are but it shows how well organized the community behind Albion and the guilds within it are. Below you will be able to see a little of what I am talking about, a large open world fight between Exodia and Aegis, check it out!
An excellent video showcasing a little of what Albion has to offer. In the coming days, we expect the amount of videos such as the one above, to increase exponentially. Everyone loves a good fight, well, maybe not those on the receiving end of a beating but it is great viewing for the rest of us.
Old and New Powerhouses Set the Scene
Alliances have come in to existence between various guilds already. For instance, Envy [Formerly Prime], Finstack, WarLegend and Red Army have re-formed their alliance from the previous beta and are now calling it REIGN. The ZERG alliance, made up of Nilfgaard, Zero Quality and Honor n Glory, still remains also.
Newer alliances include RIVAL [Aegis, Purple Dragons, Jackal, Myrmidon], the Defy Alliance [Academy, Furia, Valar Morghulis, Casual United, Covenant, Rest in Pieces, Crimson Magic] and Atlas Veto [Scoia'Tael, Suicide Squad, Nights Watch, Wolfpack]. Diplomacy is a major factor in war time and as we edge ever nearer to full scale conflict, many more alliances will rise up as guilds seek to claim that number one spot and fight it out.
What Else Is Going On?
So apart from the claiming of territories and the initial battles of Albion taking place, what else has been happening? Cities all over the New World have already been heavily populated and most of the land plots are gone too! For the entrepreneurial few among us, who managed to save up all of that coin in such short a time span, they will most likely be reaping the benefits shortly as the world becomes more and more populated. There is fortune to be found in Albion and owning a shop in one of the cities is a good way to go about finding yours.
Some of the other strategies that guilds are using is economic. Now I am sure we have all heard the phrase, "money makes the world go round." Well apart from physics, magic and whatever else, Albion is much the same. Seeing as there are guilds out there of which their main focus is crafting, gathering and general silver making, owning the building plots was of utmost importance. From there, they can not only collect taxes but also have an easier logistical challenge compared to most when it comes to supplying their guild island and its members.
Have your say about the new world and tell us how your adventure has begun down below!