This news article was automatically parsed from the official Albion Online website.
Posted by PrintsKaspian, Shozen (Source)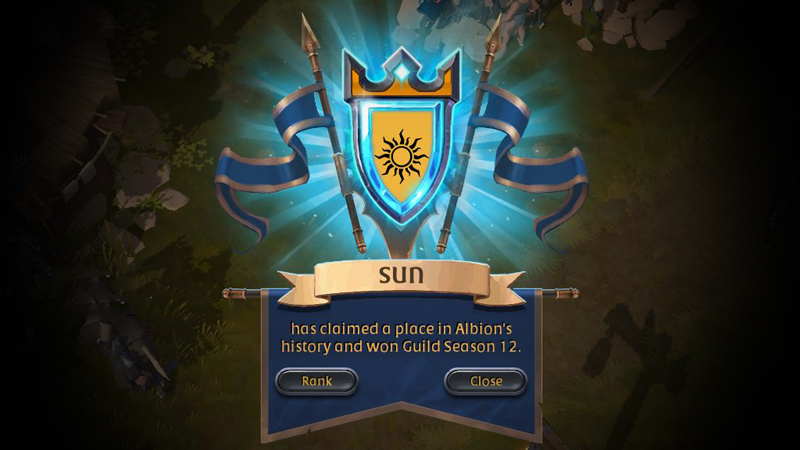 The dust has settled on Albion's Twelfth Guild Season, with a decisive winner: congratulations to Albion veterans SUN on taking the season crown! Congrats to them for their outstanding accomplishment, and to second and third place winners MudHouse and MAHARLIKA as well. Look for their statue at the entrance to Conquerors' Hall in the coming weeks!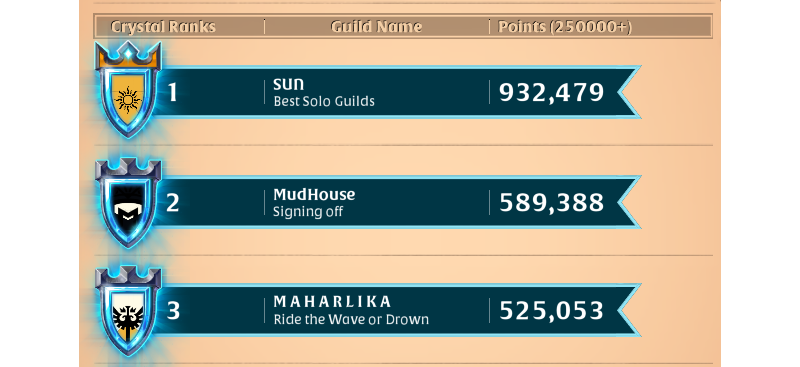 Here are the season's top ten teams with their total season points:
SUN - 932,479 points
MudHouse - 589,388 points
MAHARLIKA - 525,053 points
Hammer and Sickle - 335,893 points
Guildzinha - 273,654 points
Black 0rder - 271,295 points
FAX - 259,920 points
Tik Tok - 255,867 points
OnePunchMan - 252,246 points
One One - 251,687 points
Before the season started it looked like Black 0rder might once again take first place. And while they indeed started out strong, the effort did not persist. Mudhouse had taken over Black Order's strategy of mage raiding during off-peak hours to gain siphoned energy, and it worked so well that they soon took over first place.
SUN had built a powerful trio of 20v20 teams and had won a significant amount of Season Points, positioning them near the top of the rankings. Seeing the opportunity in front of them, FrankSinatra and SUN secured the services of a number of Crystal teams, including Team Woof Woof, the two-time Crystal League champions.
SUN was by no means alone in its efforts, as the entire POE empire fought bravely to help secure open-world objectives in the Outlands. Once the objective was set, SUN secured points at a record rate, even surpassing the season point total of Elevate. With a strategy to secure points across a wide spectrum of activities and the will to pull it off, SUN dominated the race for Season 12 and emerged victorious.
Albion's Thirteenth Guild Season starts on Saturday, June 19, with an emphasis on open-world activities and all-new rewards for ranking guilds including the powerful Phalanx Beetle. Here are all the relevant links:
Congrats again to the winners – and get ready for a whole new season starting soon!