This news article was automatically parsed from the official Albion Online website.
Posted by PrintsKaspian (Source)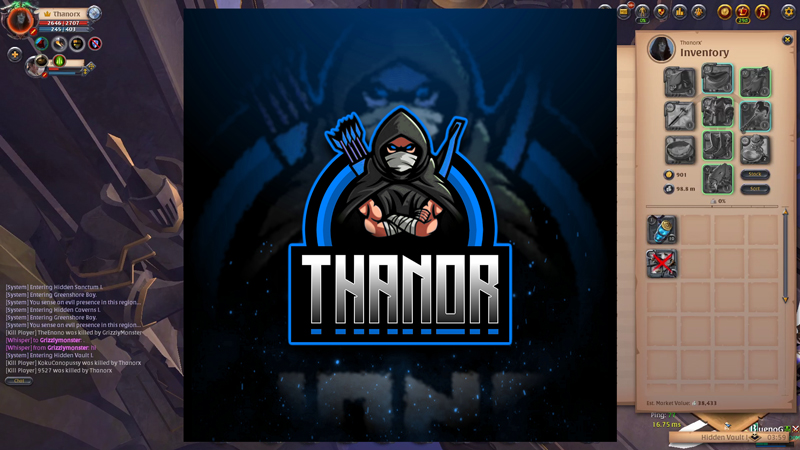 Name: Thanor
Youtube: https://youtube.com/Thanor
Discord: https://discord.gg/KVfxh964x5
Twitch: https://www.twitch.tv/thanorww
Main Focus: Corrupted Dungeons and Solo/Duo Ganking
Tell us a bit about yourself and how you got into Albion.
I work as a dentist in California and I enjoy playing video games competitively in my free time. I found out about Albion shortly after COVID lockdown shut us down for a few months and I couldn't believe what an amazing PvP game I'd been missing out on.
I'd never played a full loot PvP game before, so the high stakes of being able to lose all of my gear (or take someone else's) at any moment in the open world was a huge thrill. I still remember my first week of Albion: I'd finally gathered the courage to head into the Black Zone after spending all of my silver on a gucci 4.1 set...
…and I got dove by two players in my first dungeon. I somehow managed to zone out with a sliver of HP and the rush from my escapade was something I hadn't gotten from a video game in a long time. That experience is what got me hooked on Albion.
Soon after, I began fame farming up using the infamous 1H Dagger build to solo group dungeons. Until one day... at the very end of a dungeon, I was ganked by a Warbow. I'd invested almost all that I owned into that 8.3 Dagger Set, and almost quit on the spot that day. But I decided I'd come back stronger, and was inspired to invest my fame into the Warbow after seeing what it was capable of. Ever since then, I've been running around with a Warbow seeking to test my mettle against whoever I find!
How long have you been making YouTube videos?
I made my first YouTube video just a couple months ago. I started recording my gameplay because I wanted to figure out ways I could improve after losing a few close fights in Corrupted Dungeons.
I realized that while there were lots of Albion kill montages and general build guides out there, it seemed that there was a lack of in-depth guides with up-to-date information on how to win tough matchups with my weapon of choice. Since I wasn't able to find the content I was looking for, I decided to try and make it myself!
How is Albion different from other games you've played?
Albion is the first open world full loot PvP game I've played. As a sandbox MMO, Albion really has so many options in how you choose to play the game. One thing I'd really been looking for in a game was competitive and meaningful open world PvP.
I've had some experience challenging myself in the competitive scene of video games. I reached #1 on the World of Warcraft 3v3 Arena Ladder during the most recent expansion, and also held the #1 Legend Rank during the peak of Hearthstone's popularity. But these days, while there are lots of games out there with PvP, the stakes between winning and losing tend to feel increasingly minimal in the grand scheme of things, which I feel really waters down the competitive experience.
I was looking for a game where I could log on, fight someone to the death, and have something to show for it! Albion filled that niche perfectly for me. Being able to head out solo into the Black Zone, counter-kill a couple gankers, then sell their stuff on the market? There's no better feeling.
What is your general approach to streaming? Do you plan out activities in advance, or head out into the world and see what happens?
Because I'm back to working full-time, I'm unable to commit to streaming consistently. With the response to my content so far, it's definitely something I wish I could do! And it may be something I'll consider doing in the future.
Currently, I find that creating Youtube videos gives me the flexibility to deliver quality content with the free time I do have to play Albion and edit videos. When I'm playing Albion, you'll either find me in a Corrupted Dungeon or ganking out in the open world. It just depends on how I'm feeling that day!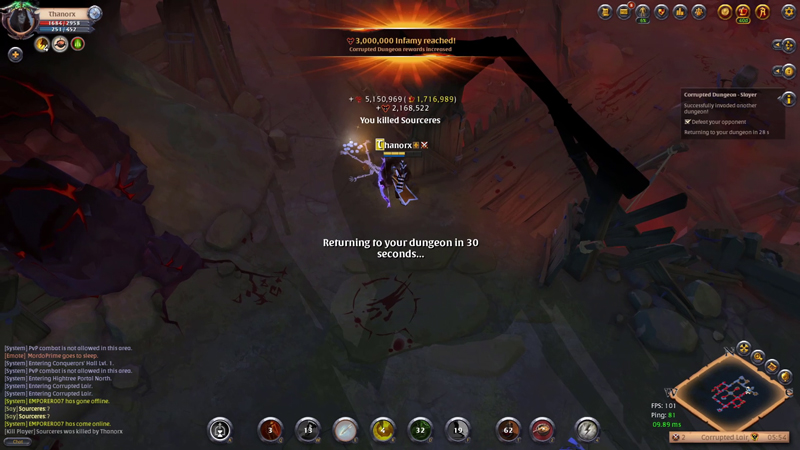 Do you have a favorite video, or a favorite moment you can share from one of your videos?
Remember that guy who ganked me with the Warbow back when I was a newbie with my 1H Dagger? My favorite moment was when I matched up against him in a Corrupted Dungeon, Warbow vs Warbow. The fight came down to the very last shot, but I managed to take him down. It felt like things coming full circle. It might sound crazy, but I'm glad he ganked me and took my 8.3 that day. Without it, I may have never picked up the Warbow!
He's actually a friend of mine these days, and I still ask him for Warbow tips since he's played the weapon for much longer than I have.
Any ideas of new content for future videos?
I'd really like to make more advanced matchup guides like my Warbow vs Chillhowl guide here:
My Warbow guides take a lot more time to make than my other vids, but it's been encouraging receiving messages from viewers about how helpful they've been, so I think it's something that is a good contribution to the Albion community.
Part of the reason I decided to start making videos is because I couldn't find that content myself when I'd first started playing the game. On that note, if you have any questions about Warbows or my content, you can ask me personally on my Discord server: https://discord.gg/KVfxh964x5
Do you have any advice or tips for other players who are considering being Albion streamers?
With a large mobile release on the horizon, I expect Albion to explode with new players this upcoming year. This gives Albion content creators a lot of opportunity to reach a growing audience. I think one thing that new and even veteran players are looking for is high-level guides about the different experiences Albion has to offer.
There are many great Albion content creators out there who are already leading the way, but there still seems to be a lot of opportunity to continue building on that foundation. Find that niche that hasn't been tapped yet, and be the one to deliver quality content!
Check out Thanor in action:
Using the Full Aggro Warbow build to take down one of the highest Infamy players in the game:
Tombhammers are tough. These are the ways I've been able to beat them using Warbow:
Slaying 8.3 Players in lesser gear is always a challenge, but here I get two huge kills vs meta builds:
Everything You Need to Know about the Warbow! This guide breaks down the basics of playing Warbow in Corrupted Dungeons: