This news article was automatically parsed from the official Albion Online website.
Posted by PrintsKaspian (Source)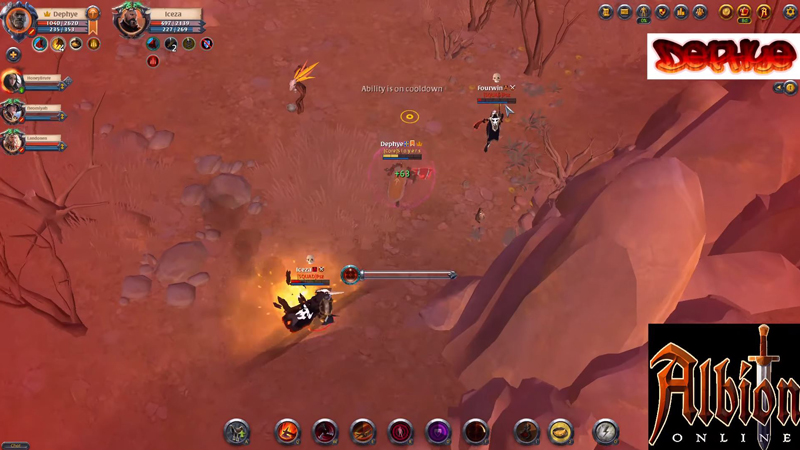 Name: Dephye, AKA The Axe Savage
Channel (link): http://www.youtube.com/DephyeMMO
Main Focus: PvP Content, Helpful Guides
How did you first get into Albion Online? What were some of your first AO videos?
I got into Albion several months ago when my roommate &ldquo
hocyso" told me I should check out this cool game. I gave it a try, and now I love it here! My VERY first video was shortly after I started; I created a 1v2 blue zone Hellgate Cursed Staff video. At the time I hadn't even tried red or black zone Hellgates yet! I was just recording what I enjoyed doing.
What is your general approach to making videos? Do you plan out activities in advance, or head out into the world and see what happens?
My general approach to making videos is pure spontaneity. I equip my axe, enter the black zone, press record, and I let the savagery unfold at its own pace.
Do you have a favorite video, or a favorite moment from a video you could share with us?
Yes! I do have a favorite moment. It is the very first clip from the video I'll include below. This clip is actually the very first time I went into the black zone with the intention of finding many people to fight alone. My very first try was a success, and thus, the Axe Savage was born.
What are some aspects of the game you'd like to cover in the future?
I'd like to cover lots of 5v5 content, whether it's some new 5v5 activity that's not released yet, or just things like Hellgates. Expect plenty of that soon. I also hope to cover much more large-scale PvP content, and create spotlights for some of the great new features that come to Albion!
Do you have any advice or tips for other players who are considering being Albion content creators?
YES. You must find what YOU like to do, and then share it with the world. Access the manliness deep within, and let no one deter your creative passion!
Anything else to add?
I just wanted to say, always remember to CHASE THE MAMMOTH. Besides that, catch me in Fort Sterling, always. And finally, shoutout to HoneyBrute, the best healer in the world, and to everyone in Perish, because THEY ARE AMAYZIN.
Can you share some of your favorite videos with us?
My first PvP commentary video! Much good, very wow.
Explosive PvP Bombs - Smash and Slash:
Very first Albion PvP video. BLUE ZONE. (I WAS VERY NEW):
Stay tuned for more spotlights in the coming weeks.