This news article was automatically parsed from the official Albion Online website.
Posted by PrintsKaspian (Source)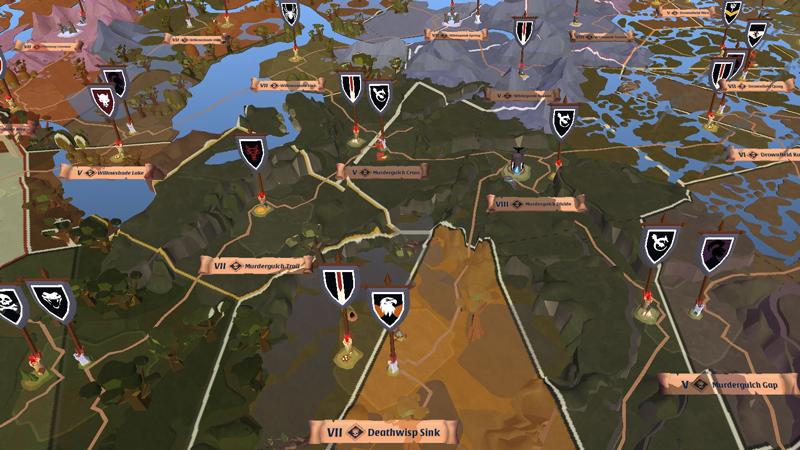 Guild Season 8 saw major changes to guild warfare in Albion Online, as well as a massive change to the land of Albion itself in the form of a whole new Outlands continent. The interplay of these new regions and systems presented both challenges and opportunities for guilds of all sizes and opened up the playing field for a new champion to take the crown. Congratulations to Sex with Ex for emerging victorious among a highly competitive field of challengers and claiming their first-ever season victory!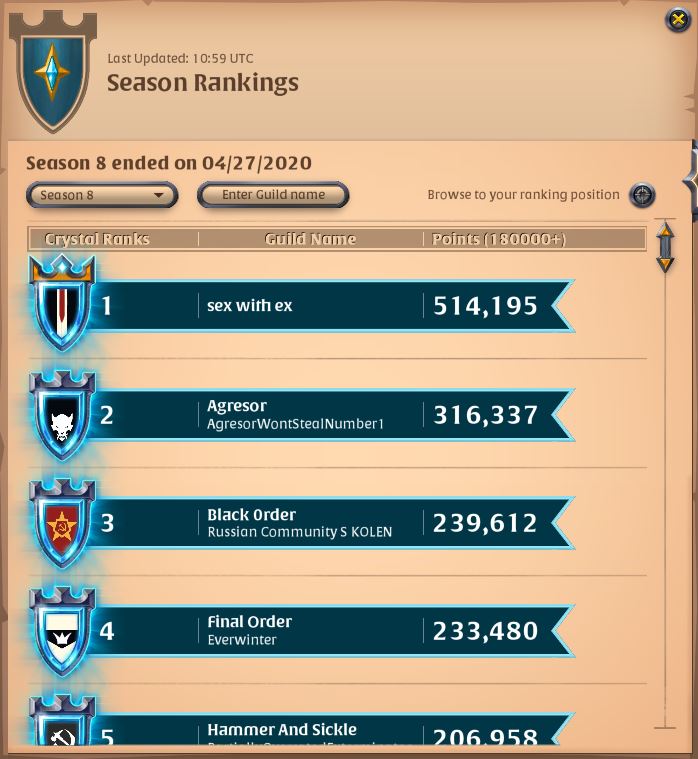 Season 8 started on February 1, directly after the release of the Queen update. Veteran guild Conflict took an early lead on Invasion Day, with last season's second-place winners Black Order, HustlinHitmans, three-time champions Blue Army, and last season's third-place winners RAQ rounding out the top five. But already within the first week, newcomers Sex with Ex had risen through the ranks to first place, where they would remain by fending off numerous challenges throughout the remainder of the season.
With the new Crystal League in play, Final Order managed to break into the top five over the following weeks until being supplanted by Agresor. After the first Territory Reset (on Leap Day 2020), the top 3 stood at Sex with Ex, Black Order, and Conflict.
On March 6, the AO Daily Show aired an interview with Arista, GM of Sex with Ex, in which he shared their hardworking approach to staying on top in an open-world-based season:
By mid-March, Agresor had broken into the top three, on their eventual way to edging out Black Order for second place overall. The final ranking was cemented after the Territory Reset on March 28, despite a last-minute push by Agresor to take first place by winning the final Level 8 and 9 Crystal League matches with hand-picked 5-man teams. Ultimately, the final Crystal League showdowns, while thrilling (and lucrative for the participants), weren't enough to upend the final rankings.
Congrats again to Sex with Ex and all the top-ten teams:
1st place: Sex with Ex (514,195 points)
2nd place: Agresor (316,337 points)
3rd place: Black Order (239,612 points)
4th place: Final Order (233,480 points)
5th place: Hammer and Sickle (206,958 points)
6th place: Conflict (202,008 points)
7th place: Last Warn (190,959 points)
8th place: Blue Army (190,358 points)
9th place: RAQ (113,549 points)
10th place: Crimson Imperium Reborn (112,291 points)

Season 8: A Whole New Type of Guild Warfare
Season 8 started on February 1, following the unique Avalonian Invasion Standalone Season that filled the gap between Season 7 and the introduction of the new Outlands that arrived with the Queen update. This season introduced two major new guild warfare mechanics:
Open-World Territory Battles to determine territory control, replacing the former 5v5 "GvG" system, and
The Crystal League, which offered high-level 5v5 fights to elite and beginner teams alike, and allowed winning teams to both earn Season Points directly and to upgrade territories for more points and resources.
In addition to the new Outlands, the Queen update brought several major new features that opened up new gameplay options for guilds, including Hideouts that gave guilds a home in the open world and Elite Dungeons that offered large-group gameplay with equally lucrative rewards.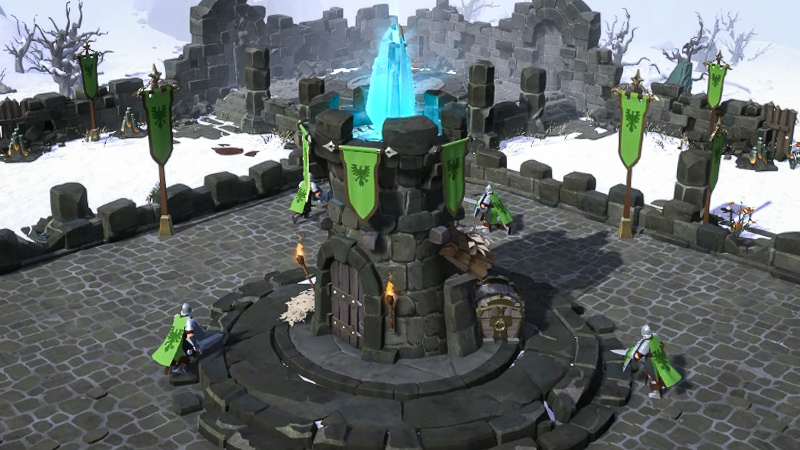 Season 9 is Coming
Guild Season 9 starts on May 16, and builds on the foundation of open-world territory battles introduced with Season 8. The season will bring numerous improvements and changes, including:
Point and Energy Storage in higher-level territories
Season Points from Veteran and World Bosses
More Crystal League matches, and the ability to buy Lv.1-3 Tokens directly
Increased Energy Drain for large alliances
For the complete Season 9 schedule and details of what's new, click here.