This news article was automatically parsed from the official Albion Online website.
Posted by Shozen (Source)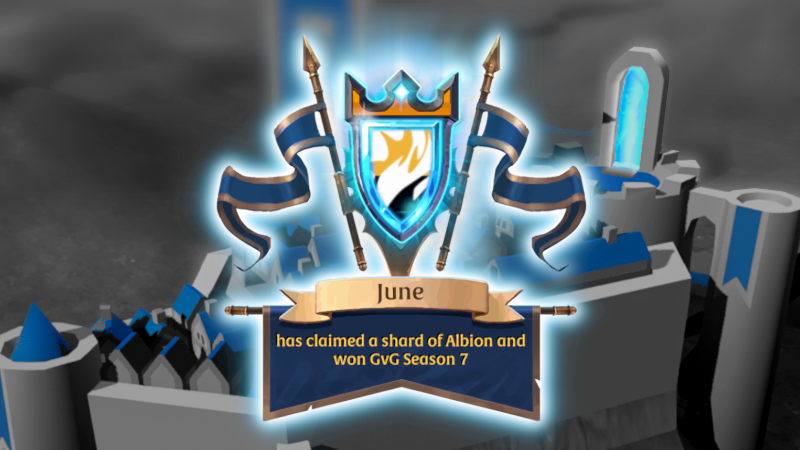 It did not take Money Guild long to take care of business and put together an alliance capable of dominating season 7, and delivering a third gem to the crown of King Derrick. Lord of Mercia. Early pretenders to the throne Guerreros and Black Order were quickly dealt with and sent to fight with Money Guild's lessers, as one of the many guilds who would push and shove for position at the feet of the King of Mercia. Through the first half of the season OOPS dominated all aspects of season warfare, and Money guild reaped the rewards, easily securing its position as number one. Second place was the best any guild could hope for.
Then, like an alliance tag at the end of the season, things began to change. June, the 158th ranked guild at the end of Season 6, began to beat Money Guild in 5v5 GvGs on a daily basis. Often the two teams would trade matches back and forth throughout the day. While this had little effect on Money Guild's position in the Season Rankings, it did strengthen the will of June, who after leaving the faltering WIN alliance created their own alliance, Daddy, and vowed to invite only good guilds. This vow was recognized as a fact that went undisputed throughout the lands of Albion.
With only good guilds in under the Daddy banner, June began rising up the ranks, from the relative obscurity of just the guys who were once in U12, to being known as June, The Guild That Has Some Dudes from Grey, and runs Daddy, an alliance of only "Good Guilds". They were able to secure second place in the rankings shortly after the first invasion, passing Black Order, the Russian guild formed by former members of... Russian Guild.
For a short time it looked as if Black Order would be a contender if not for first place, certainly for second. However, as the weeks passed, no other guilds (not even one led by a powerful alpha player like EmiyaShiro) could keep up with the frantic pace set by Money Guild and June.
The two guilds battled it out relentlessly day after day in GvGs, pushing each other to over fifteen 5v5 matches a day – over three times that of any other guild. However, no matter how many matches June won, it was unable to compete with the OOPS alliance consistently in ZvZ battles. In the closed arenas of 5v5 combat June had proven itself the equal of Money Guild, but as leaders of an alliance they faltered, and were soundly defeated by the combined efforts of OOPS, led primarily by the newest iteration of TC, Take Care.
TC was able to pull huge numbers of strong players to overworld battles and was able to easily control Mercia on invasion days, as well as capturing and holding castles with ease. All Money Guild had to do was GvG 1PG for territory, absorb an all-too-willing Scelti, and Derrick would control Mercia and receive a well-deserved third gem for his crown.
However, midway through the season there began to be rumors of an uprising. Word was spreading that many of the enemies of Money Guild, both past and present, intended to join forces with June and boost them in an effort to force an epic showdown with Money Guild at the end of the season. With Money Guild far out in front of June this seemed an impossibility, a challenge far greater than the men and women who chose to take it up.
With less than half the season left to push for points, the combined forces of SQUAD, LIFE, and whatever alliance Skuzkabel was leading at the time joined Daddy, allowing that some (for the first time) became known as good guilds. They also started fighting like hell to make up for Money Guild's enormous point lead. With a significant numbers advantage, determination, and an unreasonable amount of belief, Daddy went to work closing the gap.
Each day saw June inch closer and closer, and by the second Invasion Day it looked like June may be able to pull off the unthinkable by the end of the season. Then, during invasion day, Money Guild made a choice that may have cost them their third gem. Instead of defending Mercia and taking the towers located within their own empire, OOPS instead ventured into Siluria and stole June's high-level towers, leaving much of Mercia to fall uncontested. The belief being that Mages were too hard to defend, and that more points could be gained raiding Mercia mages and winning Crystal Realm Battles from high-ranked towers, than could be gained by once again holding Mercia.
This strategy failed in epic fashion as Daddy chose to defend its mages all hours of the day, refusing to let them fall uncontested. Within hours, huge amounts of season points began pouring into June, and without their empire Money Guild had no way to gain enough points to keep up. Within three days, June passed Money Guild and established a point pace that broke the will of their enemy.
Derrick, King of Mercia, Lord of the Red Banner, High Masters of The Retry, offered his concession in a well-written and humbly submitted post. With the season victor decided and little of consequence to fight for in the world around them, both mighty alliances began to fight amongst themselves. June, no longer believing that Daddy consisted of only good guilds, disbanded the alliance and joined SQUAD in an effort to remain relevant beyond season end. OOPS began shedding guilds as well, with prominent members Scelti and Take Care splitting off to create their own alliance. There are rumors floating about that the legendary Money Guild may even disband OOPS and create a new alliance, or perhaps even join another.
June's rise to power and battle for first place this season was as meteoric as it was unexpected. They took on a mighty power and won a battle nobody thought was worth fighting. Through the use of diplomacy as well as skill on the battlefield, June bested a legend, securing their own place in the history of Albion.