This news article was automatically parsed from the official Albion Online website.
Posted by PrintsKaspian (Source)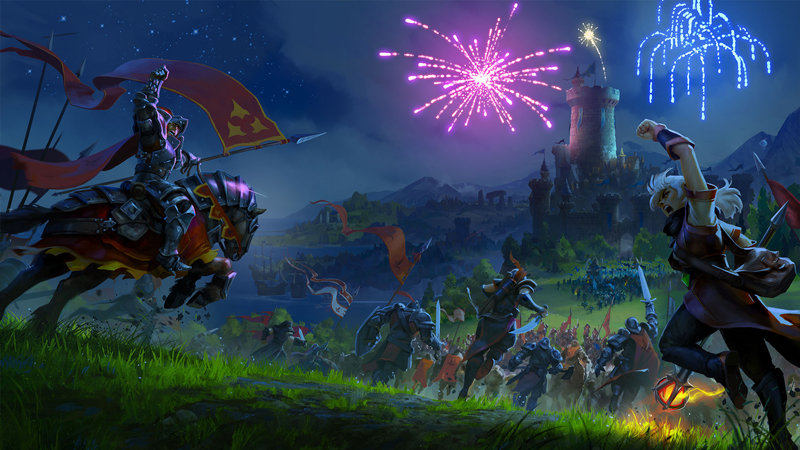 Today marks a truly momentous occasion in the history of Albion Online, as the game celebrates its fifth anniversary! As part of our ongoing anniversary celebrations, we're taking a look back at some of the major events of the past five years…
Launch Day: July 17, 2017
After years of development, including countless new builds and alpha and beta launches, Albion Online officially launched on July 17, 2017. In the weeks leading up to the launch, anticipation in the community reached fever pitch: people took days or weeks off work to dive into the game, created extensive spreadsheets to document their burgeoning guilds and alliances, and spent late nights on the forums plotting their first steps in the world of Albion.
Koffee Fiends' post-launch video guide to starting out in Albion
At 13:00 UTC on July 17th, the game was officially live, and people began streaming into the Royal Continent. It was a time of firsts: first kills in the red zone, first to enter a black zone, first Hellgates, first GvGs, and claiming of Home Territories. Guilds and alliances soon began to take shape as well.
While thrilling, the launch was also challenging: the community had grown beyond all expectations, and was fully prepared to log in the moment the game was live. The numbers alone would have been challenging to handle from a support/moderation perspective, but coupled with malicious DDOS attacks it became an exhausting week for the developers and community alike. Over the following weeks, the technical issues receded, and players were able to fully immerse themselves in the game.
Early Content Updates: Expanding Albion's Possibilities
The first post-launch update, Joseph, brought the Arena, which offered 5v5 battles in each of the game's cities, and PvE opportunities in the form of two new higher-tier Expeditions. From the betas through the release and into late 2017, players gained a much better understanding of Albion as a hardcore sandbox game and what to expect from it. Accordingly, in December 2017 the Kay update introduced Guild Seasons, territory raids, and a political world map to the game.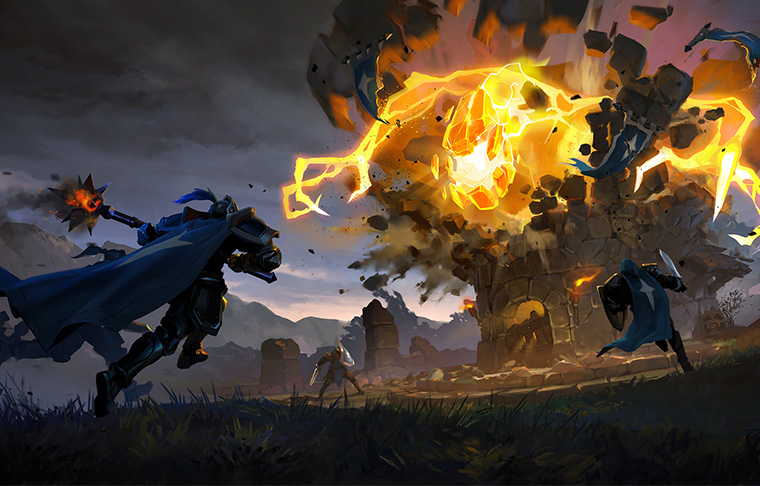 Year Two: From Lancelot to Nimue, and a Steam Launch
2018 brought three major content updates: Lancelot in the spring, Merlyn in the summer, and Nimue in the fall. These brought major new features like fishing, open-world mobs, Faction Warfare, crafting bonuses, the Crystal Realm, and more.
Then, on May 16, 2018, Albion Online launched on Steam, bringing thousands of new players into the greater Albion community. The influx of players expanded the Albion ecosystem, providing new economic and combat opportunities for seasoned players.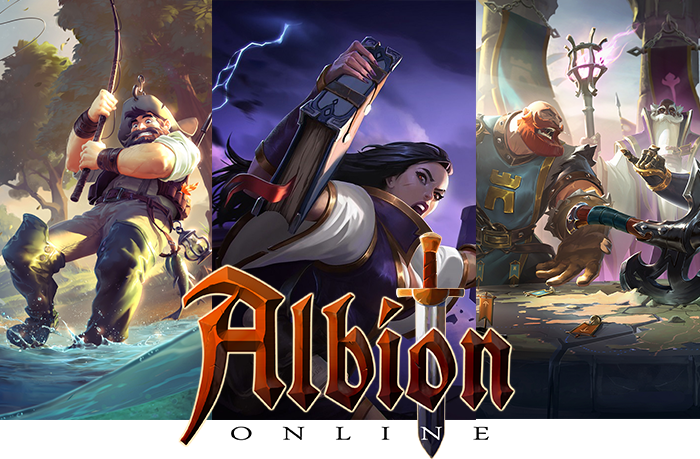 2018 also saw a massive expansion of guild warfare in Albion, spawning rivalries that have continued to the present day. Guild conflicts varied from friendly group PvE to small-scale interguild skirmishes to all-out backstabbing and warfare. 2018 also saw the introduction of new seasonal rewards, including valuable mounts and a chance at a permanent spot in Conquerors' Hall.
A Major Milestone: Albion Goes Free-to-Play
On April 10, 2019, Albion Online became entirely free to download and play. Tens of thousands of new players flooded into the game, necessitating a queue system, an expansion of the Outlands, and an ongoing series of optimizations to server performance. As new players made it past the early-tier bottleneck, the gameworld became more lively and action-filled than ever, with full cities, constant Hellgate, Arena, and Dungeon parties, and an explosion of new guilds and alliances. The veteran Albion Online community stepped up, offering a hand up to new players via ingame chat, the forums, Discord, and numerous video tutorials.
Albion's free-to-play launch was a huge milestone in its development, opening up the game to hundreds of thousands of new players from around the world, making the world of Albion more alive and vibrant than ever before.
Toward the end of 2019, a new presence began stirring in the Outlands. Soon its true nature became clear: an ancient force known as the Avalonians had returned to Albion. As the strength of the Avalonians grew, their intent became clear: to invade Caerleon and reclaim all of Albion for themselves. The season culminated in the chaotic Battle of Caerleon, in which Avalonian Mages and Constructs laid siege to the city before ultimately being driven back.
2020: Challenge and Change
The Queen update in January 2020 was Albion's largest content update since launch. First and foremost, the update brought a completely new Outlands continent, shaped by the magic of the Avalonians. The update also brought a whole new guild warfare system, where territory control was now determined via massive open-world battles. And those looking for 5v5 combat could battle it out in the new Crystal League, with victors able to claim valuable rewards and boost their territory's tower level.
Combat Designer Michael Schwahn remembers these changes as being a leap of faith, which fundamentally altered one of Albion's core endgame features:
"With Queen we changed territory warfare completely. We removed the existing 5v5 GvG system with Open World Territory Battles, which let more guilds and players take part in territorial warfare and also made it impossible for guild politics to be controlled by a handful of elite players. It was quite a big leap for us to replace an existing high-end feature with something completely different, but looking back, this change was absolutely for the benefit of the game and has helped it grow further."
The Rise of Avalon update, released in August of 2020, followed up with two major new gameplay systems, the Roads of Avalon and Corrupted Dungeons, as well as new Avalonian Weapons and numerous other changes and quality-of-life improvements. August also brought Albion's first-ever Crystal League Championship, a new high-stakes tournament that would become a regular part of Albion's offseason, pitting the top 5v5 teams against each other with massive rewards at stake.
Pandemic and Resilience
In April 2020, with the COVID-19 pandemic affecting the entire Albion Online community, the Staff of Hermes Charity Pack was launched, with a unique healing-themed offhand costume item and avatar ring and all proceeds going to the COVID Solidarity Fund.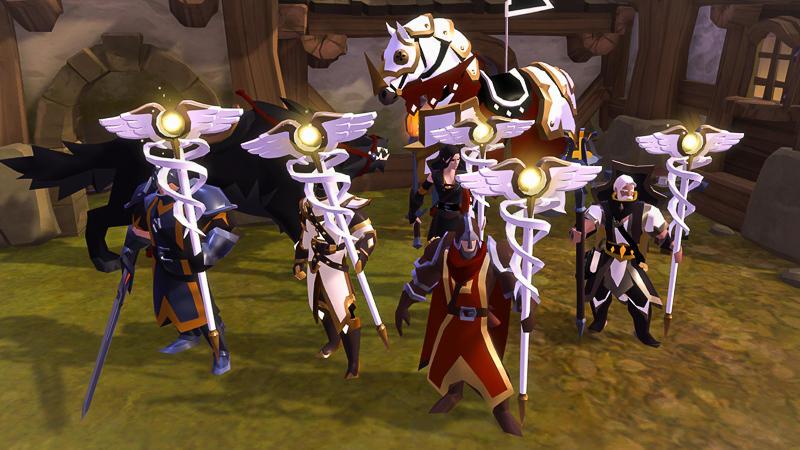 The response was tremendous: in the four weeks this special pack was available, the Albion Online community came together and raised an incredible €42,644.94. The outpouring of support for this cause was truly inspiring, and the "staffies" sent in by those who had bought the pack contributed to the overall feeling of community and goodwill.
2021: Major Updates and a Promise Fulfilled
On March 17, 2021, the Call to Arms update went live, bringing a complete ground-up rework of Faction Warfare. Caerleon joined the fight as a sixth playable Faction with its own unique rules and playstyle, and valuable rewards including Elite Faction Mounts became available to those who pledged their loyalty to a single city. Call to Arms also brought major changes to Hellgates and the new Loadouts feature.
This was followed up by the massive, much-anticipated Lands Awakened update, perhaps the game's most expansive to date. This update touched nearly every aspect of open-world gameplay, from gorgeous new visuals for all five biomes, mobs that upgrade in power and value over time, and reworked static dungeons, to the brand-new War Gloves weapon line, an expanded soundtrack, big changes to guild warfare, UI and quality-of-life improvements, and more.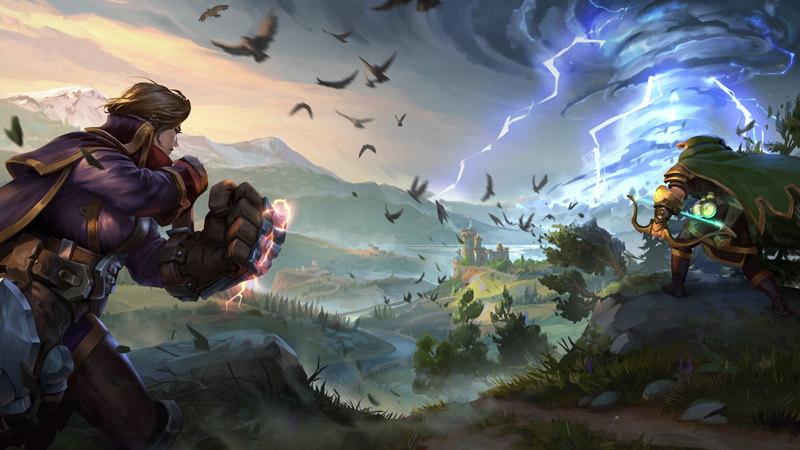 But the biggest milestone of 2021 was the fulfillment of a long-awaited promise: a truly cross-platform MMO experience…
Albion's Mobile Launch
On June 9, 2021, Albion Online reached the final major milestone in its quest to become a truly cross-platform Sandbox MMORPG: the official mobile launch. As a core goal since the earliest days of development nearly a decade ago, the worldwide launch on the Apple App Store and Google Play Store was the next massive step in opening up the world of Albion to countless new players, as well as allowing longtime players to play Albion Online whenever and wherever they wanted.
The worldwide mobile launch brought unprecedented player numbers to the game, and Albion shattered its all-time record with an incredible 270,000 daily active players, nearly doubling the previous record.
In Fall 2021 the Albion Online Creators Program, a new program designed to support the game's talented streamers and video creators while growing the overall Albion community, was introduced. The program received a further boost the following year with the introduction of Twitch Drops to support Albion's dedicated streamers..
Entering 2022: Awards, Honors, and More in Store
As 2021 drew to a close and 2022 began, Albion Online received several major honors: the game was awarded the 2021 Deutscher Entwicklerpreis for "Best Mobile Game", the 2021 MassivelyOP Year-End Award for "Best MMO PvP", and the 2022 Deutscher Computerspielpreis for Best Mobile Game, recognizing the game's development into an immersive and truly cross-platform MMORPG.
And on June 8, 2022, the Into the Fray update brought a fully reworked Magic Staffs line, Portal Towns, Castle improvements, Dynamic Events, and more, making it easier for new and experienced players alike to enjoy Albion's higher-level content.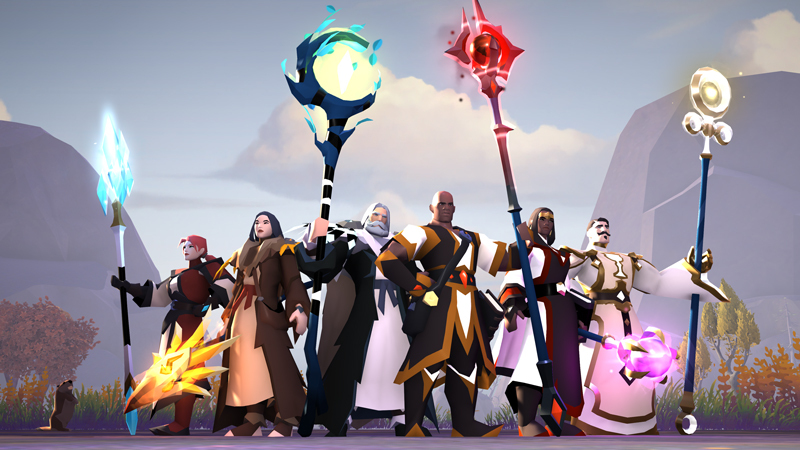 Which brings us up to the present day…
Anniversary Celebrations: Legacies, Livestreams… and Cake
At the start of Anniversary Week, Albion's residents were shocked to discover that the season winner statues were missing from Conquerors' Hall. Rumors began to swirl of strange rumblings across the land, and soon it was confirmed: the statues had come to life and were roaming the world!
The two-week Living Legacy event kicked off July 14, bringing Albion's player-created history to life, with big rewards for those skilled enough to claim them. These included Anniversary Cake, Albion's first-ever decaying item.
Like all major events, Living Legacy came with its own dedicated trailer:
The Fifth Anniversary Livestream took place on Friday, July 15 on AlbionTV, the official Albion Online Twitch Channel. In conversation with the hosts, Albion devs told stories about the game's early days and gave an inside perspective on Albion's development over the years.
We've uploaded the entire stream to YouTube for posterity, and you can watch it here:
And last but not least, this milestone absolutely would not have been possible without the most important element: our incredible players. Game Director Robin Henkys shares his gratitude with the worldwide Albion community:
"The world of Albion lives through its players, and we're incredibly lucky to have such a dedicated, active, and diverse community to bring Albion to life. The past five years have certainly had their share of challenges, but we're very proud of where we've brought the game so far, and we can't wait to see what the coming years will bring."
Here's to the next five years!