This news article was automatically parsed from the official Albion Online website.
Posted by UrzakeFrostgard (Source)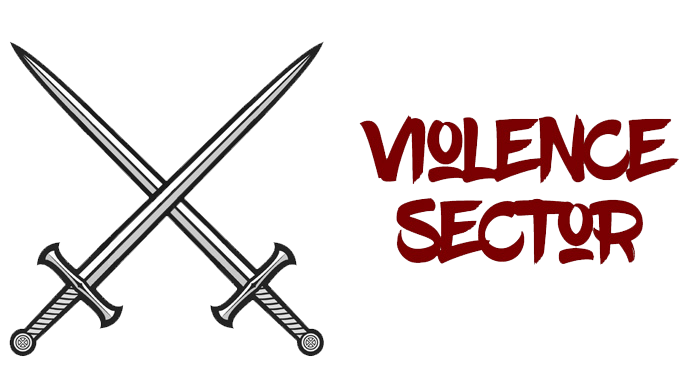 While contacting Violence Sector, I was told that their guild leader and founder Aratorn is currently taking a break from the game and so, instead I met up with TheJomber, co-leader of the guild and his temporary replacement. TheJomber agreed to an interview and we talked about the experiences his guild had until now and the goals they are aiming for in the future. Enjoy!
The Creation of Violence Sector
Violence Sector was founded by Aratorn, shortly after the start of Final Beta. Aratorn created his guild with the goal of uniting Russian-speaking gamers from all over the world in a casual environment. To achieve this, he focused on recruiting active people that recently joined the world of Albion, who showed their motivation through their actions rather than playtime.
Roughly one month after Violence Sector was founded the guild noticed a certain shift in interest. Its members started to get hyped by the competition surrounding them and they decided to become more serious about the game, willing to fight other strong guilds and compete with them for territories.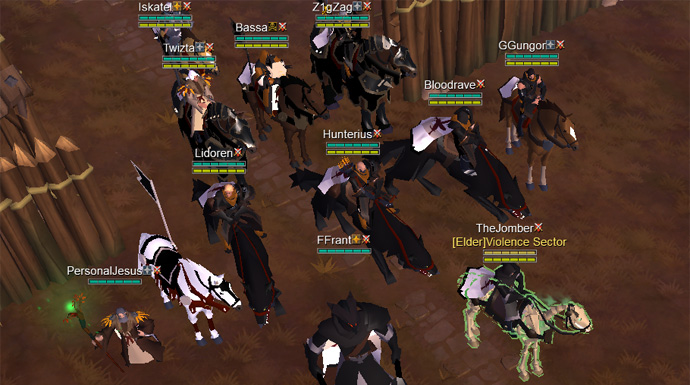 Refining the Edges
As Aratorn is currently taking a break from the game, Violence Sector is led by TheJomber who gets help from KpyTeHb, Emji, and Bloodrave. Each of them works in their own specific field.
First, we have KpyTeHb, the guild's provider, who secures the mobility of his guild through his talent in growing mounts. Second, there is Emji who is in charge of training and integrating new recruits into the guild. And last but not least, Bloodrave, who has dedicated himself to improving the guild's internal structure.
Talking about the guild's internal structure… Due to the shift in Violence Sector's goals, they are currently reorganizing their guild system from a democratic set-up into a more competitive set-up that fits their needs and will help them to keep improving. Despite the system still being a work in progress, TheJomber presented me one of its core features: "As our main goal is to compete with other guilds in GvG we want to center our whole guild structure around that goal. The core of our new system is to create supportive teams, one for each GvG team. While the GvG team will focus on their training, the combat and the defense of their supporters and the guild, their assigned supporters will try to provide everything their GvG team needs. Combining that core system with people that work well together while playing in the same time zone, will give us a great advantage."
Two Most Important Things: Knowledge and Experience
Since Violence Sector set their foot into the GvG realm, they fought against a lot of different enemies. Their three hardest opponents were the Red Army, Luna Prima and Suicide Squad. "Fighting against strong guilds like them is not only fun and interesting but it is actually extremely educational. Even the two territories we lost to the Red Army cannot weight against the amount if experience we gained from fighting them. Especially our recent GvGs versus Luna Prima and Suicide Squad helped us to improve a lot. While we were able to compete against their second string teams, fighting against their first strings showed us that we still have a long way to go," TheJomber expounds.
Another guild that helped shaping Violence Sector is THE ABYSS, which could be called the first true rival of the guild. In the beginning of their conflict both guilds clashed against each other in countless open world skirmishes. While defending their plots, THE ABYSS constantly harassed their enemies before GvGs with open world ganks to weaken their equipment. Nonetheless, Violence Sector was able to turn the tide and managed to snatch Queensbay Watch from their rivals. The war between the two guilds kept waging until recently when THE ABYSS joined Violence Sector in the Elders alliance. Today both guilds keep training and competing against each other through GvGs.
"We Got Your Back, Keep Pushing!"
Violence Sector is part of the Elders alliance, working hand in hand with guilds like The Solar, Chromaggus, HI5, and ICE. Being in the Elders alliance was definitely more than helpful for the Russians, as they were supported by everyone in it. TheJomber talks about his allies: "Thanks to our alliance we were able to peek into any major content of Albion Online, starting from small ganks with ICE, up to huge open world wars and castle fights. Our trade pact with The Solar allows us to get access to rare materials and equipment and thanks to the support HI5 we can be very aggressive in our GvGs."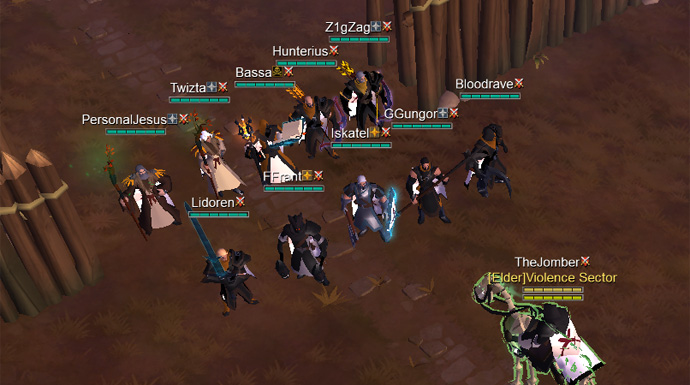 Further, TheJomber adds: "I want to thank everybody who is part of the Elders alliance for their continuous support and help. You are the best!"
Plans Are Already Made
Despite the amount of new available recruits currently becoming lower and a few of the guild's members taking a break from the game until release to not burn out, Violence Sector wants to keep being a Russian-only speaking guild. TheJomber explains the decision: "We simply prefer playing without any kind of language barrier that might occur if we would switch to being an English speaking guild."
Still, regardless of the ebbing recruitment, the guild got hold of enough resources through their territories and plots as well as their previously owned city Queensbay Watch that they are now aiming straight for T7 equipment and preparing for a complete transition into the black zones. Meanwhile Violence Sector has also started the training of their second GvG team. TheJomber is confident that, by the release of the game, Violence Sector will have three fully trained groups that will be able to compete against the other guilds in the first week of colonizing Albion. "We have already created our plan for the release and are working on improving it every time we learn something new," he says.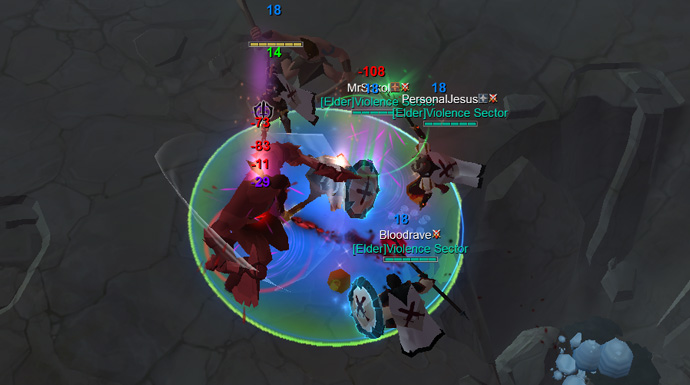 An Honest Statement
Reaching the end of the guild Spotlight, I asked TheJomber about a statement he wants to share with the Albion player base. Here are his words:
"To the Albion Online community: The world of Albion is a dangerous place, but we will try to fight to live in that world. We are not aiming to be the very top guild in game, simply because we won't be able to be as hardcore as guilds like Nilfgaard, Envy or the Red Army but you better not underestimate us! Anyway, we are looking forward and waiting for the release of game, so that we finally can play with people who are currently taking a break. I hope that we will be able to achieve our goals and we are prepared to change those, in case we have to adapt to new updates or new circumstances."
Did you already fight against Violence Sector? What are your personal experiences with this week's featured guild? Share your thoughts and your opinion on Violence Sector with us in the comments below or on our forums!