This news article was automatically parsed from the official Albion Online website.
Posted by Enya (Source)
Today, we are switching up the usual Guild Spotlight by featuring a rather unusual guild: The Academy. Unlike the previous spotlights, this guild isn't known for its rich history or astounding victories, for being one of the most helpful and welcoming unions in Albion Online.
We had a talk with Stormlord, founder and Guild Leader of the Academy, to learn more about the Academy's existence, goals and how you can join!
The Birth of the Academy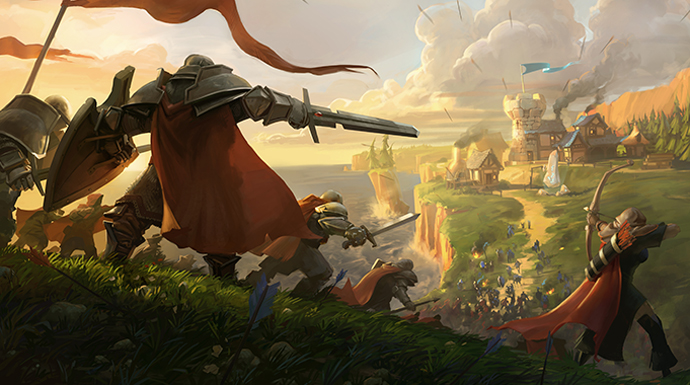 Stormlord created the Academy, not too long before the end of Closed Beta, after his previous guild died down. The idea was to start to help out new players, as well as give veteran players a platform to pass on their knowledge.
For Stormlord, it all came very natural: "I had fun helping people after my guild died, so I made a guild and simply brought in the guys who wanted to run with me. And now we have the Academy
."
Recruitment went smoothly, as quickly a total of 170 players were interested to join the guild and help out. "It was this that made me realize that what I am attempting is critical for Albion," Stormlord explained.
And his plans do not end there, as he has recently announced the Albion University alliance, as a way to counter the current super alliances.
But why exactly is Stormlord putting so much effort into all this? He put it short and simple: "I don't like players who deliberately drive new guys out of Albion."
The Academy's Goals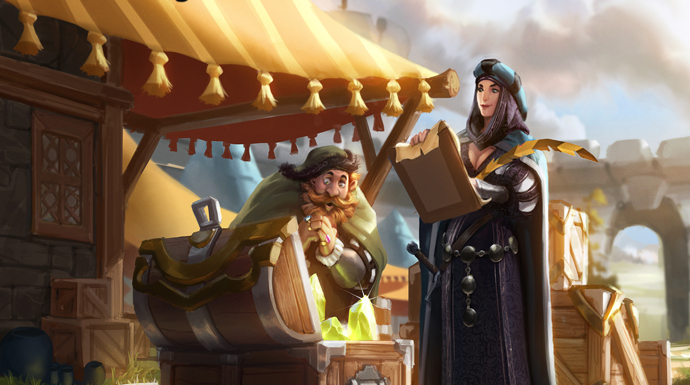 As with any other guild, the Academy has its own goals. In this case, four main goals, which Stormlord summed up for us very straightforwardly:
&ldquo
rotect new players and make them powerful"
"Renounce the toxicity that is the GvG system and gamer elitism"
"Keep it simple"
"Have fun goddamnit"
How to Join The Academy
Everyone is welcome to join the Academy, whether you're a new adventurer or a veteran player.
New players get the full treatment. As Stormlord put it: "We bring you in, tidy you up and then help you progress. We cover all levels of progression and we have decided to have a presence in The Outlands."
If you are a more experienced player and you will most likely already have a guild to play with, Stormlord encourages you to pick an alternative character to throw in the guild instead.
Joining is easy. Either visit them on the forums or contact Stormlord in game once Final Beta is live in August!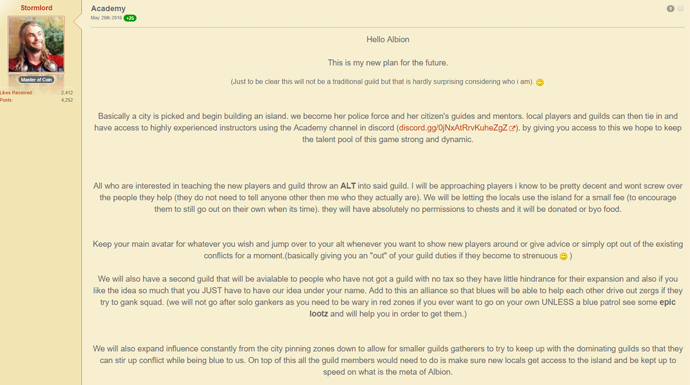 Stormlord's Final Words
As with every Guild Spotlight, we end this highlight with a final statement of the guild's representative. Here is what Stormlord has to say:
"New player of Albion! My name is Stormlord. (&hellip
For too long MMO communities have encouraged casual contempt of "noobs" "scrubs" and "feeders" treating some of the truly greatest player potential in their games like fodder.
I do not like this and so I am stopping it.
We will make a guild - I don't care how big or how strong we become but within our guilds walls you will have fun and crazy experiences and you can smile in the knowledge that the people you normally have to put up with are now tearing EACH other apart for your amusement.
We are the Academy and we are your friend."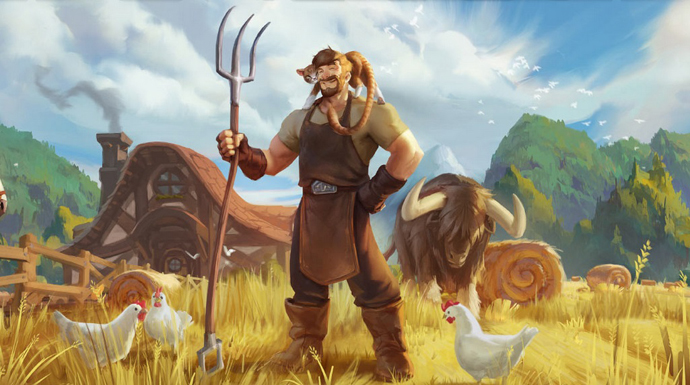 Will you join the Academy? Let us know in the comments below!