This news article was automatically parsed from the official Albion Online website.
Posted by PrintsKaspian (Source)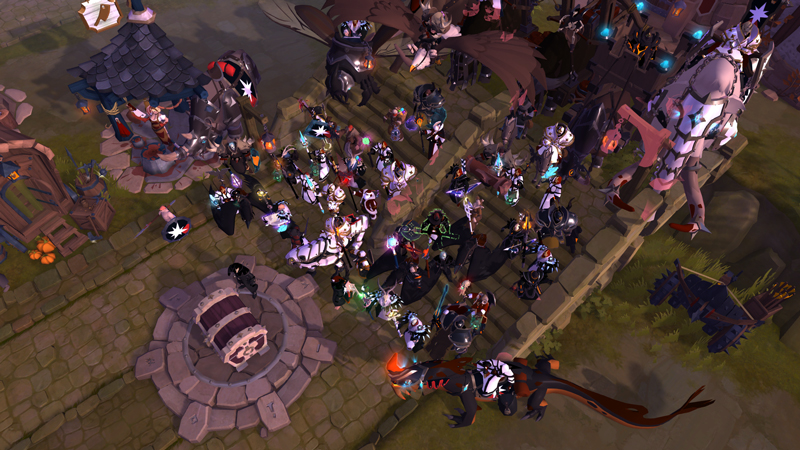 Guild name: R O N I N
Alliance: EWOC - Exiled Warriors of Caerleon
Guild leader: Kharont
Date founded: 1999; in Albion since Beta
Number of members: 200+
Primary language: Italian
Tell us about your guild. What sort of activities do you focus on? What sort of members are you looking for?
We started our guild as a group of friends. Our core team has been playing together for over 20 years now. In Albion we decided to expand our community to more Italian players as we like to cover all aspects of the game. We are mainly a PvP guild that includes ganking, ZvZs, roaming, and dungeon diving.
We also do PvE content, mainly to get our new members ready for more serious fights. We've created a sort of a "school" for Hardcore Expeditions, and since we've known each other for such a long time we share the most powerful equipment to clear them as fast as possible. We have also consistently been a top guild when it comes to silver earned.
We are looking for Italian-speaking players who want to have fun but still take the game seriously. Our guild includes players that won the first and only Arena tournament just after launch, so we tend to be quite competitive, but always fun-oriented.
Where is your guild primarily located? What regions in Albion do you focus on?
Our base is Martlock. We mainly roam in the Outlands, outnumbered by bigger alliances, but we love to take fights that are not easy to win. As you can see on our Youtube channel, we don't shy away from a challenging fight or an honorable death.
Do you have any particular rivalries or ongoing quarrels with other guilds?
We love all our enemies; after all, it's just a game at the end of the day. But because we are based in Martlock we tend to fight ARCH (and mainly Iron Hand). I'm proud to say we are getting a bit famous around that area
What were some of your most memorable battles/activities?
We are not part of a big alliance so we are always ready to be outnumbered, but often we win anyway. Once we tried to build a Hideout, and we all met to fight at 5am our time. It was even more fun with all of us awake at such a crazy hour.
What does your guild do for fun?
For fun (and for money; PvP is expensive) we love to roleplay conquering a whole map. We sit there in hiding, ambushing those who cross our path or asking for ransom. As mentioned earlier, we also coach new players in PvE in order to have their skills at 100 as quickly as possible.
What is your guild's approach to the game? Do you have any sort of overarching philosophy?
Fun and respect for the other guild members is our number-one priority. As I mentioned, our core players have known and played with each other for over 20 years. All of us have kids or families. We like to use Albion to escape reality and have fun. We are also very serious when we need to be, such as in battle. We only accept members who won't create a toxic environment.
What are your goals for the future? What is your ultimate goal in the world of Albion?
Since we never joined a big alliance, we never had the chance to capture a territory or Hideout, so that's now our goal. We are trying to leave a dent in Albion's universe without taking the "easy" way.
Anything else to share about your guild?
We've been together for so long that we've shared major events of each others' lives: marriages, welcoming a new child, etc. We also organized a gathering in Italy where we all met up for two days.
I hope to see more and more guilds with this long-term approach, it makes this unique game even more unique. In the meantime, if you speak Italian and you want to know more about us do not hesitate to contact Kharont, Barracuda, Lilblessed, or Hannybaal.
Check out RONIN in action:
Dungeon dive + open-world PvP:
Open-world fights:
Smaller-scale fights (3 vs X / 5 vs X):
Stay tuned for more spotlights in the coming weeks.