This news article was automatically parsed from the official Albion Online website.
Posted by PrintsKaspian (Source)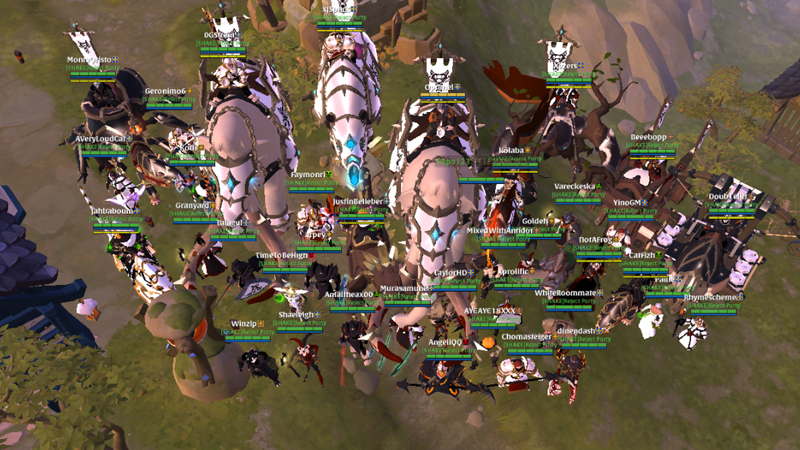 Guild name: Reject Party
Alliance: SHAKE
Guild leaders: DemonEyesAngel / AngeliQQ
Date founded: June 2020
Number of members: ~200
Primary language: English
Tell us about your guild. What sort of activities do you focus on? What sort of members are you looking for?
Reject Party focuses on activities that allow for team development and bonding. We have multiple non-mandatory CTAs everyday that allow us to grow as a guild and a community. We are looking for players that want to expand past their potential and push their borders in the game. Reject Party is mainly focused on PvP / ZvZ. Of course we have multiple hardcore gatherers that are backing up our needs and also have super dedicated PvEers that enjoy endgame content like Avalonian raids.
Where is your guild primarily located? What regions in Albion do you focus on?
We are located out of Martlock, and mostly focusing on the areas around Martlock but also taking some fights all the way to the middle zones. We might make our way to the Roads of Avalon to have the chance for small scale fights and ganking opportunities with gathering parties.
Do you have any particular rivalries or ongoing quarrels with other guilds?
Reject Party was founded as a small bomb guild that uses very high-tier equipment to impact big fights. We don't hold grudges or name enemies, but we will be standing our ground and defending the territories we have. Lately we've been focusing on fighting for the most valuable central zones of the world. But our content might change depending on the political situation in the Albion megawars.
What were some of your most memorable battles/activities?
Probably one of the most memorable battles was against Rang, Ordem Des Assasinos and Sex with Ex. We were fighting with Elevate against them and scored a super high kill/death ratio, killing 60+ people with just 10.
Another memorable moment was passing a T5 enemy blob defending a territory and taking it without even fighting. It was POE's main territory, and while we couldn't even hold it for a day it was super fun just to cap it.
What does your guild do for fun?
For fun, we bomb ZvZs as small units to get insane amounts of Kill Fame. That doesn't mean we don't enjoy other activities like ganking parties, gathering, and Avalonian raids. But most of our members enjoy ZvZs.
What is your guild's approach to the game? Do you have any sort of overarching philosophy?
In the end all of us just want to have fun playing as a group. We're not the type of guild that will force you to come to CTAs, but you should keep in mind that we are mainly a ZvZ guild. I've been super happy to see most of our online players come to CTAs without being required to, because all the success we have, the territories and Hideouts, come as a result of our ZvZ efforts.
What are your goals for the future? What is your ultimate goal in the world of Albion?
Our overall goal is to keep having fun as much as we can while growing our guild. It's not so easy to expand since we are already like a family. But we want to pick and choose new members, grow our family, and try to leave a mark on Albion Online's history.
Anything else to share about your guild?
We are recruiting
If you think you'd be a good fit, feel free to send an application via our Discord.
Check out Reject Party in action:
Who we are:
Our roots and where we came from:
AngeliQQ (Reject Party GM) Interviewed on Albion TV: