This news article was automatically parsed from the official Albion Online website.
Posted by UrzaKeFrostgard (Source)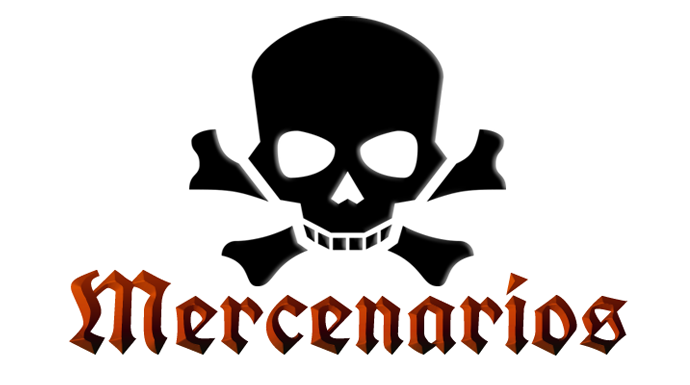 Venezuelan, Argentinian, Spanish… these are just few of the nationalities you can find within the Hispanic guild Mercenarios. Their diversity and recent success against rival guild KDS caught my attention and Valyrion, the leader of Mercenarios, agreed to an interview. Together with him and some of his officers we talked about their guild, their past, their current state and about their plans for the future.
Los Conquistadores de Albion Online
Roughly two months before the end of the first Closed Beta Test, Valyrion was part of the Hispanic guild Mercenarios de Sangre. Due to poor guild management and failed diplomatic efforts, Valyrion decided to create his own guild. The result of that decision was the creation of Mercenarios. Together with his friend Malga, now co-leader of Mercenarios, he started his own guild from scratch.
Today, Mercenarios contains people from all over South America, North America and Europe. Due to their Hispanic roots, most of Mercenarios current members speak Spanish but Valyrion wants to add even more diversity into his guild: "We are an international guild that currently contains people from more than ten different countries. While we mainly speak Spanish within the guild, we are looking forward to bring even more different countries together, united under the banner of Mercenarios!"
The Results of Dividing the Work
Eager to not repeat the same mistakes his last guild made, Valyrion has taken a different approach in the guild management since the very beginning. To ensure Mercenarios internal integrity he split up the important tasks between his officers, instead of doing everything on his own.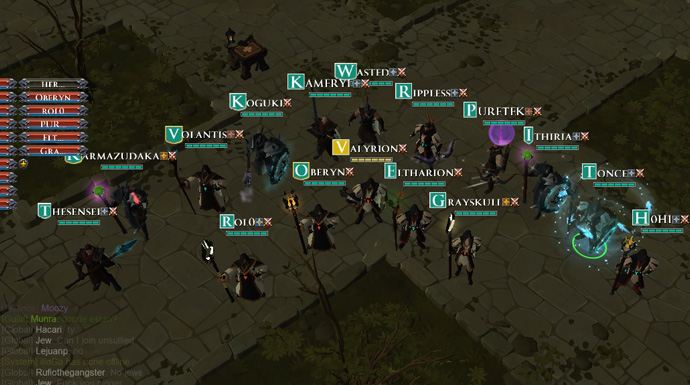 "There are a lot of people within Mercenarios that keep the guild running smoothly but there are a few I want to mention directly!" Valyrion starts. "First, there would be Eltharion, our GvG leader who is also in charge of our daily PvP training. Second, would be Oberyn, that guy is a great politician. He is in charge of any internal affair and solves them as if they were nothing. The next person to mention is GRAYSKULL. This guy handles our resource management and he is doing it like no one else. Thanks to him our supply lines keep running perfectly. Last but not least is Rol0, our guild's millionaire. Everybody in the guild loves him… most likely because he is rich!"
Thanks to his leading officers, Valyrion can focus on the actual organization of Mercenarios, which includes guild events as well. In addition to that he supports Eltharion in leading the GvGs and he is in charge of the guild's diplomacy.
With Valyrion's diplomatic efforts, Mercenarios was able to get connections to quite a few powerful guilds in Albion Online. Until recently they were part of the feared ZIKA alliance led by Echo of Silence. With the ZIKA alliance being disbanded due to Echo of Silence leaving the Final Beta, Mercenarios decided to stay with their former allies in the newly founded SNOW alliance under Honor n Glory.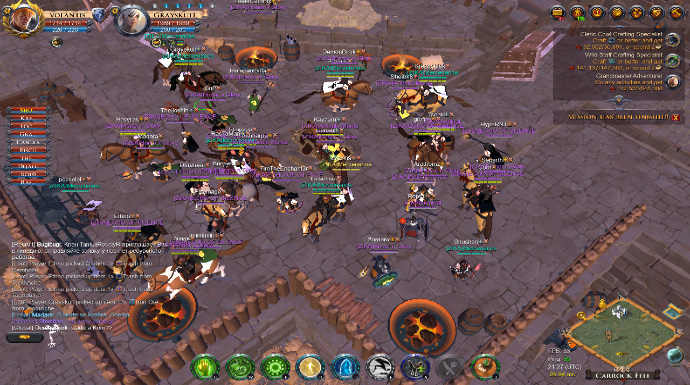 "At this point I want to thank Echo of Silence for everything they did for us. They helped us a lot with Castles and GvG in general and even if they are currently absent from Albion Online we are looking forward to work with them again once the game is released!" Valyrion declares.
Climb New Highs Through Rivalry
"While we had some really good fights against ZORN, which really helped us improving, there is one guild we are constantly fighting, KDS!" Oberyn, Right Hand of Mercenarios tells. Given the fact that Mercenarios is completely surrounded by allies but one side, fighting against KDS is the only option for the Conquistadores.
"KDS are skilled warriors! They are giving us one good fight after another. Thanks to our war with them our members improve continuously and we have a lot of entertainment." Valyrion explains. The war between KDS and Mercenarios is waging back and forth. Not a long time ago, in a carefully planned campaign, Mercenarios was able to conquer and take almost every territory owned by KDS but the retaliation came quickly.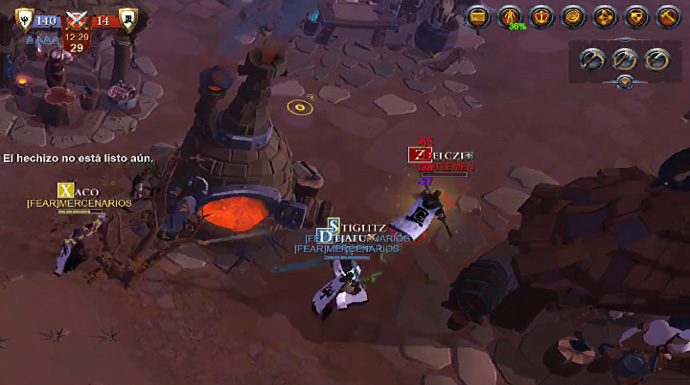 Oberyn expounds: "We believe our latest campaign against KDS made them practice a lot and in addition it looks like some of their core members rejoined the Final Beta as their power has doubled reaching a new level. We are doing our best to keep them at bay. In the beginning of their counterattack they were able to reclaim some of the territories they lost but now we are holding against everything they throw at us and their advancement has come to a halt."
Reap the Fruits of One's Labor
"Right now, everything Mercenarios is doing is in preparation for a single goal. We want to be the top guild out there, once Albion Online is released!" Eltharion states. To achieve this goal, Mercenarios has different projects running simultaneously.
"One of our biggest obstacles to overcome right now is the lack of powerful GvG teams. Lately we have more upcoming GvGs than actual teams. We approach this problem from two angles. First, we are training our current members and second were have started recruiting new people. In addition to our actual recruitment we are thinking about assimilating a few smaller Hispanic guilds as well." GRAYSKULL elaborates.
To improve their member's skills, Mercenarios uses various forms of training. Besides the basic training for new members, including everything one needs to know to get started in Albion Online, all of the members in Mercenarios are trained using different weapons and equipment. This way they are able to react and equip based on their situation and their opponents.
Another thing Mercenarios is doing to keep up their progress, is using internal 5 vs 5 battles and skirmishes against their allies to hone the skills of their advanced members. Afterwards the things those members learned are written down in detailed guides and shared with everybody in the guild. Yet, the top of Mercenarios are even going beyond that. Together, they analyze video material of their own battles or YouTube footage of their enemies to perfect their own strategies and to form counter tactics against their opponents.
"Those are some of the things that allowed us to overcome the obstacles in our way and that made us the most powerful Hispanic guild in Albion Online. Thanks to the commitment and the enthusiasm of our members and not least our leader Valyrion, look were we are now! We are ready to be on the top, once the game is finally released!" Rol0 proclaims.
Voices of a Guild
Normally, the last part of the guild spotlight is reserved for the leader of the guild but Valyrion decided to let his guild make the final statement:
"We want to thank Valyrion and every officer in Mercenarios for their commitment and the things they are doing for us every day. We want to thank ZORN for inspiring us to improve our PvP skills whenever we have the opportunity to do so and we want to thank KDS for the ongoing war and the daily battles. We also want to thank Echo of Silence for reaching out their hand to us when we needed them the most and we want to thank our allies for being with us. Last but not least we want to thank everybody in Mercenarios for the great time and the fun we have together!" - Mercenarios Guild
Have you met Mercenarios? Did you encounter their members in the world of Albion Online? What are your experiences with the Hispanic guild? Let us know in the comments below or on our forums!