This news article was automatically parsed from the official Albion Online website.
Posted by PrintsKaspian (Source)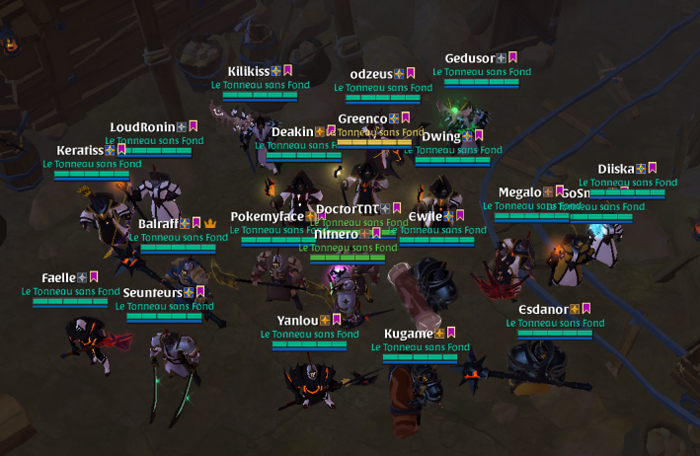 Guild name: Le Tonneau Sans Fond
Alliance: none
Guild leaders: Diiska, DoctorTNT, and all the officers of the guild
Date founded: July 30, 2017
Number of members: ~30
Primary language: French
What sort of activities do you focus on? What sort of members are you looking for?
We are a small-to-medium sized guild whose objective is to have fun and to be chill toward our members. We like to enjoy all types of content in Albion, especially all types of PvP.
We are looking for members over 18 years old who want to join a real community of players, who have access to voice chat on Discord.
Where is your guild primarily located? What regions in Albion do you focus on?
Our guild is located in Lymhurst, but we spend 95% of our time in the Outlands to live constantly at risk of PvP.
Do you have any particular rivalries with other guilds?
We have no particular rivalries, even if there are some guilds that we are happier to kill than others, especially big ones. Our general approach is "red is dead": we believe killing even our friends is a way to challenge and respect them. We try to not make enemies and to be a friendly guild that people enjoy fighting.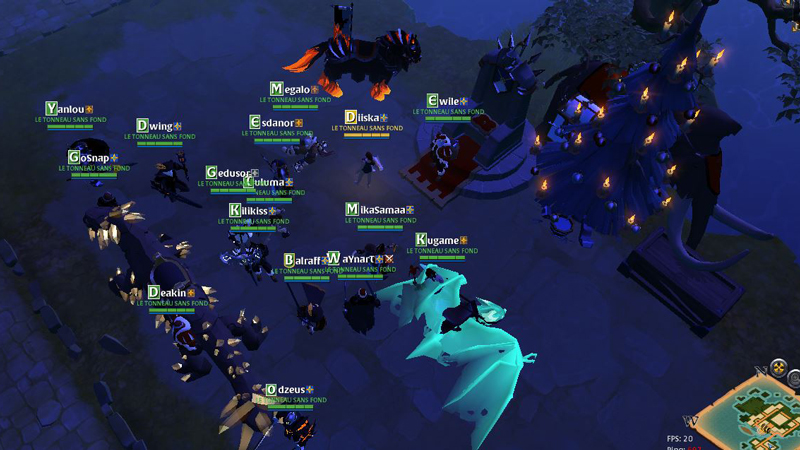 What were some of your most memorable battles/activities?
We've had plenty of memorable fights over the past years. One of the more recent ones was a fight against BACON alliance during a NA reset. We were 12 players in Triproot's territory trying to beat the boss. A big blob of BACON was coming toward us so we decided to fight them. They tried to cross the choke and we managed to put a Camlann on them and kill a lot of them. They retreated but mobs were killing them. Finally they escaped and we won the territory. You can see a part of this fight in our 2019 rewind video at 8:00:
What does your guild do for fun?
Our guild has a weekly special event, the "event à la con" (or "dumb event&quot
. Almost every Sunday we choose a totally dumb activity to relax and have fun. If you see us on Sunday night naked on mules, or wearing Santa hats T3 gear, that's totally normal. We even have a special channel in our discord to propose dumb ideas.
What is your guild's approach to the game? Do you have any sort of overarching philosophy?
Our approach is mostly based on ambiance. We like to enjoy the game and create real friendships. Our members are totally free to do what they want; none of our events are mandatory. Also they are free with the level of investment in the game they want to have: some of them like to put in tons of effort, others like to chill out.
Our main philosophy is to be like a family and to help each other reach objectives of our choosing. That's why we don't have a single leader, and instead let the officers lead. We make decisions together to be sure to have multiple points of view.
What are your goals for the future?
Nothing too concrete, though we are working on rebuilding our zerg and training some new fight leaders to fully enjoy the Queen update.
Anything else to share?
We have a Youtube channel and a Twitch channel. And if you want to join us, our recruitment is open!
Check out Le Tonneau Sans Fond in action:
Outnumbered fights - as we are a small guild we often have to deal with this:
A compilation of PvP fights recorded by Megalo, one of our officers. Check out his other solo and group videos:
Roleplay event for the wedding of DoctorTNT and Diiska: