This news article was automatically parsed from the official Albion Online website.
Posted by UrzaKeFrostgard (Source)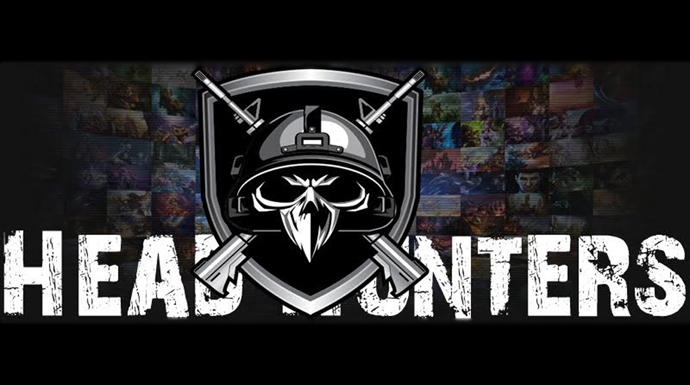 Albion Online has seen the birth of many guilds, but there are also guilds and communities that already existed long before the creation of Albion Online even started. This week we are going to take a closer look at one of those guilds, one that is fairly new to Albion Online but was created more than 20 years ago; Head Hunters. I have talked with Comba, the guild leader of Head Hunters. We have spoken about their first months in Albion Online, their current goals, and their plans for the future.
A Long Lasting History
With the release of Quake 1 in 1996, a group of Brazilian gamers decided to create a competitive clan to combine their efforts reaching for new heights. This was the birth of the Head Hunters. As the release of Quake 1 was over 20 years ago, Head Hunters played a lot of different games before they joined Albion Online. They played well-known titles such as Warhammer Online, Aion, Darkfall and Guild Wars, just to name a few. But one game brought them recognition all over Brazil: Ultima Online. This is also the very reason why Head Hunters joined Albion Online:
"Albion Online is a big deal for Ultima Online lovers, so big that we want to be successful again, playing a kind of game we love! The decision to bring Head Hunters to Albion Online was a try to revive old memories, although we are older and our availability is different," Comba explained.
Head Hunters' history in Albion Online started in the current Final Beta, with the main goal of being one of the competitive forces within the game, especially in the GvG and Open PvP sectors. As the core of Head Hunters is already well established, they were able to organize their ideas and members without much of a problem and had a very successful start in Albion Online, despite the fact they were new to the game.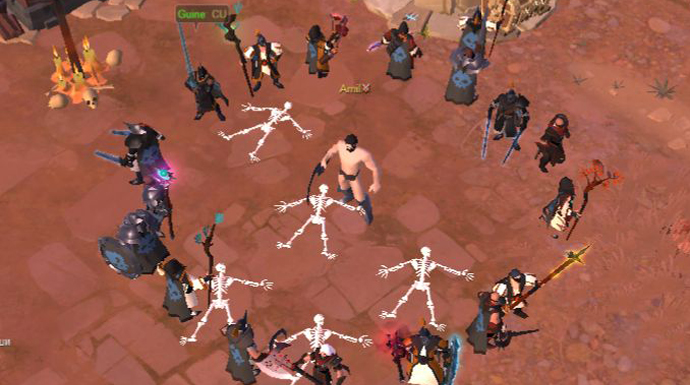 While the success of Head Hunters is thanks to the hard work of all their members, three of them deserve to be in the spotlight:
"I wanted to highlight two of my friends – TheDuck and Stanzin – both of them are very responsible and committed," but Comba also added: "Finally, it is impossible to not mention our mascot Amil, he makes our nights really funny."
About War, Alliances and True Friendship
Despite Head Hunters being a fairly young guild in Albion Online, they already had plenty of opportunities to fight on equal footing with other well-known guilds. Thanks to a three week long war against the Exodia alliance, Head Hunters could quickly adapt to the game. With their newly gained experience they were able to secure a safe foothold in the world of Albion. The currently ongoing wars against Undead Lords, Nox Noctis and Rising On is giving Head Hunters a lot opportunities for great skirmishes.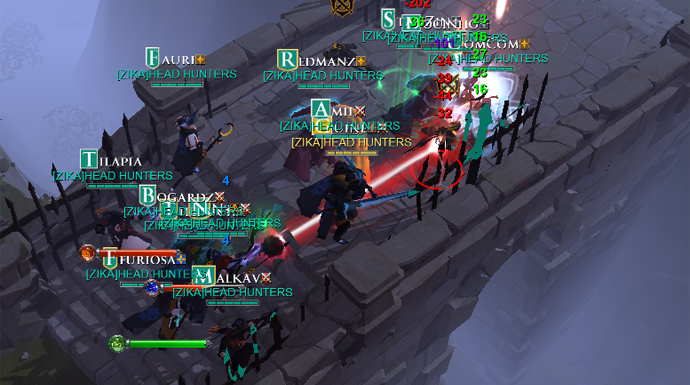 As of now Head Hunters is part of the ZIKA alliance, working together with guilds like Echo of Silence, Valhalla, Chicken Kiss and Honor n Glory, showing that they have gained quite some fame within the community. Especially the friendship between Head Hunters and Honor n Glory was pretty important for the development of the guild early on.
"The friendship and the bond between Head Hunters and Honor n Glory is a special one! While Head Hunters might be one of the most known Brazilian Guilds we are fairly new to Albion Online. Honor n Glory gave us a hand in the very beginning of our existence. They taught us the very basic of the game, helped us with our very first steps and explained us the important things that you need to know to be a successful guild in Albion Online. Thanks to that the bond between our guilds is very strong and I want to thank Honor n Glory and above all my very good friends Qflex, Gera and Suprema for everything they have done for us!" Comba states.
Nevertheless, Head Hunters diplomacy efforts do not end in the alliance they are part of. Comba described the relationship between Head Hunters and the Red Army or Aegis as simply awesome: "Both guilds are good examples of friendly, respectful and quality players", he said.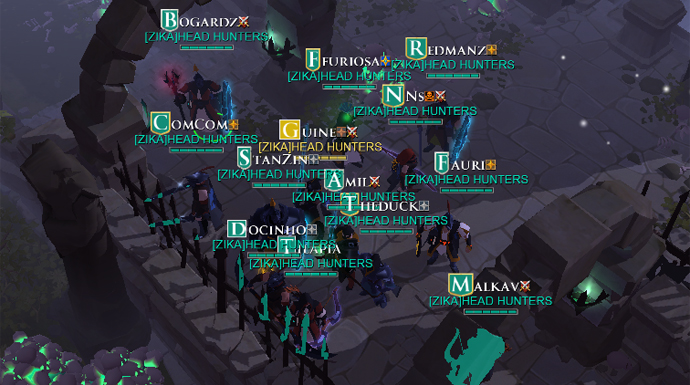 On the question what Head Hunters is doing to counteract their rivals and enemies, Comba simply replied: "We play the game!"
Current Goals and a Look Into the Future
Like a lot of other guilds, Head Hunters is using the Final Beta as a preparation for the official launch of Albion Online. Recruitment and gaining actual experience of the game are two of the most important parts on the way to reach their goals. Currently everything Head Hunters is doing is build around four core pillars:
1.Creating a perfect plan for the official release of Albion Online.
2.Recruitment and training of not only combat active players but also dedicated crafters and gatherers to support the whole guild.
3.Training their core members in GvG combat.
4.Drill the whole guild on open World PvP.
However, Head Hunters is facing an issue familiar amongst most guilds: keeping their players motivated.
Comba explains: "Head Hunters is learning day by day how to play Albion Online competitively, as this is our main goal for the game! On the other hand our main obstacle is keeping the players motivated to play this Beta Test hard, even if a lot of things are changing all the time and without any information about actual dates. We hope the developers have the opportunity to solve everything quickly to release this game."
Comba's Final Statement
As always, the last part of our guild spotlight is reserved for the leaders of the guild. Comba's final statement resonates the positive attitude of his guild:
"Head Hunters is constantly looking for new members, especially the ones that are interested in GvGs and open World PvP. We appreciate the friendly way the older guilds of Albion Online received us. Thanks to their help everyone can expected Head Hunters to be as strong as we were in Ultima Online. For sure we will have great start into the official release of the game and we are awaiting tons of players to join us!"
Have you encountered the Head Hunters on your journey in Albion Online? Let us know your experience and share your thoughts in the comments below!