This news article was automatically parsed from the official Albion Online website.
Posted by PrintsKaspian (Source)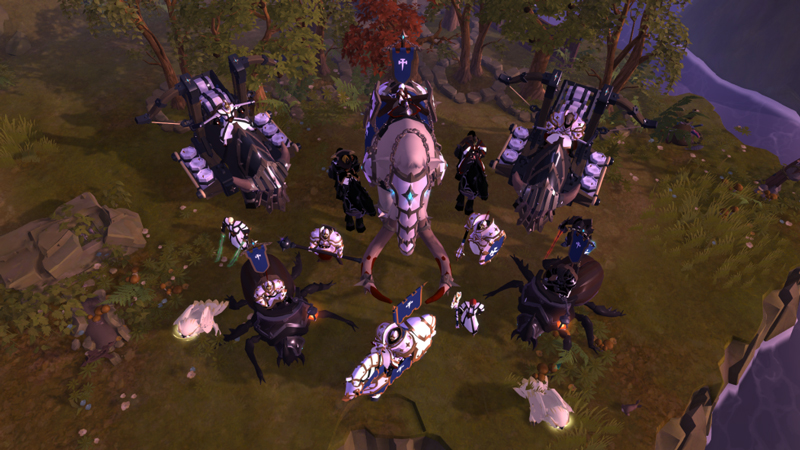 Guild name: Crux del Sur
Alliance: YAQZA
Guild leaders: CarlosNestor / Chamiush / Zxai / Sparknight
Date founded: October 16th, 2019
Number of members: 50+
Primary language: Spanish
Tell us about your guild. What sort of activities do you focus on? What sort of members are you looking for?
Crux del Sur keeps an open and participative focus on its activities. Any member can schedule an event besides the ones we play with our allies and the rest will follow. Most common are fame farming in tier 8 static dungeons, ganking, factional ZvZ, and raiding any map owned by guilds currently hostile to our alliance. We seek for daring Spanish speaking players, always up to a good brawl. Despite being all seasoned fighters, we pride to keep a correct and good mannered behavior among us and towards our friendly neighbours.
Where is your guild primarily located?
Finding each new season the best spot for us to grow had our small clan to line up with the major alliances in the Outlands. By previous season ending, we were fighting at Martlock's war South front, where our Tier 3 HO in Gravemound Cliffs played a capital role in the final outcome of such conflict. In the current season, we are residing in Slakesands Mesa as a core part to the Spanish speaking alliance YAQZA.
Do you have any particular rivalries or ongoing quarrels with other guilds?
Due to our warlike behaviour, we have found ourselves hated, even feared, by our at some point enemies. However, Crux del Sur keeps no feud against any particular guild or alliance and will have no problem in either paying allegiance or attacking past friends or enemies. In the Outlands, red is red, anyway.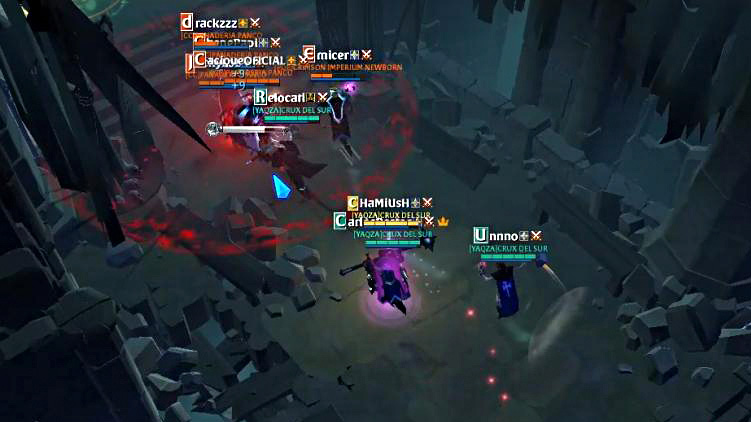 What were some of your most memorable battles/activities?
After a whole year participating in Albion main conflicts, we are unable to point a single encounter over the many rest! In the past, our always small clan was able to conquer up to 12 in game territories and such a feat kept us in constant battle. Some more numbers: During the last Martlock campaign we directly took part in the battles that led to the demolition of 32 Hideouts belonging to ARCH. Those actions yielded amazing fights, many of them recorded in the videos alongside this interview. We can proudly say our siding along one or another alliance has determined the course of the wars we have participated in.
What does your guild do for fun?
We enjoy highly varied content, however, what we enjoy the most is to assemble a blob and to crash it into our current enemies' maps, overcoming our numbers disadvantage with quality, causing them losses and havoc till a far larger opposing force is finally presented to end our killing spree and leading us to rest our bones all over some lost map's dust. Laughs and PvP Fame are guaranteed.
What is your guild's approach to the game? Do you have any sort of overarching philosophy?
Albion is more than a game; it has a key social component linked to it. You can play alone, but you will never reach Albion's endgame. In Crux del Sur we care a lot about this part of our gaming experience, among ourselves and beyond, towards our ally and even enemy guilds. Despite our brawling behaviour, we always show good manners and a helpful attitude, and such attitude is a clan trait that makes our members proud. This leads to a strong sense of loyalty in our ranks, which is also equally shown to our allies.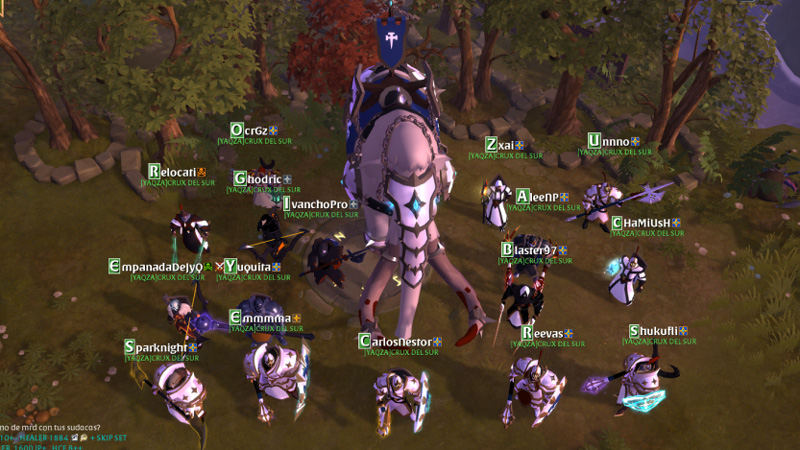 What are your goals for the future? What is your ultimate goal in the world of Albion?
Last season we found ourselves reaching almost Silver, even paying no attention to our ranking. We are going to rank at least Silver in the current season, with Gold an eventual target. Our long-term goal is to conquer and maintain a territory by ourselves, keeping our place in good terms and equality among the main alliances in the Outlands. We would like to prove how a fighting spirit such as ours can lead any small guild to a spot among the bigger community and earn their respect.
Anything else to share about your guild?
We are glad to have big alliances' offers thrown at us regarding ongoing and future wars, and we are also always open to reconsider our location in the Outlands. Some room for independence is needed, though, as while we participate in these conflicts we are going to always keep our distinct, strong identity and never ever merge our ranks into another guild. We are also accepting new Spanish-speaking players, as earlier stated.
Check out Crux del Sur in action:
Who we are:
How we fight:
Having fun: