This news article was automatically parsed from the official Albion Online website.
Posted by Luci
Feb 10th, 2016

(Source)

At the end of Summer Alpha, 2015, a rather young organization was formed in the world of Albion. An organization that would prove to be a force to be reckoned with by the time Closed Beta rolled out in November. From upholding a strong military presence in the Eastern continent, to maintaining a strong core-structure internally, this guild has proven to be one of the most dominant names during Closed Beta; an organization entitled: Aegis.

The formation of Aegis tells a tale of recreation, rather than simply creation. Vortech, the guild leader of the organization, offered us his time and explained how Aegis was derived.

"Aegis as it's now known, was formed just before the end of Summer Alpha. Due to real life matters, our leadership did not have the availability to manage a guild during this phase. We embedded ourselves in another guild, a previous ally known as Horse Riders. Unfortunately their leadership failed them early on and the guild was relegated to a city," said Vortech. It is clear that although Aegis is a rather new guild in the world of Albion, the seasoned experiences of their individual core players have allowed them to adapt from the mistakes that their previous guilds made in the past.

"Remember, during Summer Alpha, there were no war camps. If you hadn't claimed territory you were essentially locked out. We did the best we could lending our experience to their leadership and helping out wherever possible (leading GvGs, shot calling roams, organizing crafting and gathering) but we just weren't happy with the guilds performance. We had brought over a number of our members from our previous guilds Legion and The Vikings. We knew we could do better. We owed those who followed us, and we felt everyone deserved more from the test. After much deliberation, CircuitSix, Torks, Vortech, and five other members decided to split off and form Aegis," explained Vortech.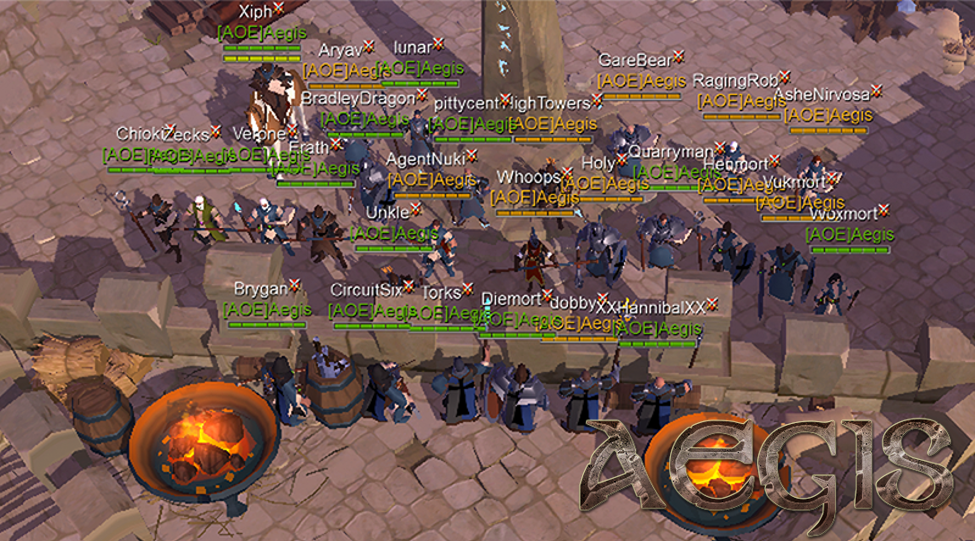 With such an abrupt split from the rest of the guilds they had dedicated considerable time towards supporting, Vortech believed it was time for him and his group of bandits to stand on their own feet. At this point, they began making diplomatic decisions that would lead them towards a successful end-of-Summer-Alpha. "We utilized previous relationships to broker a deal securing us territory in the world. From this territory we launched our attacks and claimed as much as we could before test end. It wasn't long before we got our core back together, plus we had some new additions to the family. We ended up having a great time, finished strong, and promised to never trust our experiences in AO to other leadership again," Vortech proclaimed.
Trust is one of the key motivators behind the continued successful development of the organization. Experiencing a lack of trust in their former guilds led those who broke off to form Aegis down a path of adaptation to their circumstances. "We strongly believe that we could not trust our experiences in the world of AO with any other guild. Our core is comprised of leadership veterans who knows what it takes to successfully manage a guild. We've got some of the most dedicated, calculated, and talented players in the game among our ranks. We wanted to provide a comfortable environment where all types of players from semi-hardcore to outright dedicated could progress together," affirmed Vortech.
While many guilds in Albion assert themselves under a communistic form of governing, Aegis approaches the game quite differently, which again, comes down to establishing trust amongst every player in the organization. "We're a council run guild, supported by a sub-council, who values every member's input, and we are decidedly democratic. We do it differently than most and we feel the environment we provide is just better suited for the world of AO."
Within the Albion community, Aegis is often considered as one that takes a more humble approach towards not only the community at large, but internally with their members as well. Vortech credits much of their success to the dedication of their core membership. "Members like Malice, master of absolutely everything and his dedication knows no end. He is an irreplaceable core member of this guild that everyone probably owes some thanks to for their successes. Everyone in our core is a key member that does their part to hold the system together. We couldn't possibly do them justice by naming them. They know the positive effect they have on our guild, and we often reinforce our gratitude as a guild to one another," explained Vortech.
Aegis has assuredly came out with their sights on dominating the world of Albion, in both terms of GvG and open world presence. Many would argue that they achieved their goal, and even exceeded it.

Naturally, with the success that Aegis has experienced during Closed Beta, their rivals would stop at nothing to attempt and slow down one of the most notable threats on the Eastern continent that Aegis had established themselves as. "At this point most of our rivals have not had the fortune we've obtained this test. Most noteworthy guilds or alliances have come and gone by now. The biggest rival for any guild on the East continent is the [NO] alliance. They're enjoying a gear advantage over most and currently at the center of a talent vacuum picking up geared players from the East."
Not only is the 'NO' alliance providing Aegis with uphill battle, but it seems that Hammer & Sickle (a.k.a. 'The Bear') is giving them a run for their money as well. "I would say H&S of the [INC] alliance has to be the "biggest competition" and we feel like if moving westward is within reach, they would be our "end game" depending on who wins the majority of the black zone fighting in the next few weeks with the NO alliance. Right now it seems the East continent will resemble the West with a three way war between three alliances," said Vortech.
In order to counteract their rivals, Aegis made the diplomatic decision to establish an alliance with KDS in order to ensure they can remain competitive in the world. "The latest move we've made to secure our place in the world and this phase is the [DEYS] alliance with KDS. This alliance is far and away our most successful yet in the world of Albion. Our friends at KDS share many common goals, possess immense talent, and are incredibly easy to work with," said Vortech. Establishing the DEYS alliance has presented both Aegis and KDS the opportunity to sustain an even stronger open world presence as well as territory control around the continent. Their 'end game' goal of fighting The Bear comes closer within reach on a daily basis.
When considering that Closed Beta is the first 'full-length' test that Aegis has been able to perform as a guild, it is hard to deny the success of the organization in accomplishing their goals. "We originally set out with some very specific goals for a 3 month test. We were successful in our goals to control the entire area around Seven Spires, achieve a spot in the top 3 for Guild Kill Fame, Total Fame, and Resource value during this initial time period. We were also successful in having two separate GvG teams with an over 80% win rate," explained Vortech.
Most importantly, the continued development of their core membership internally seems to be what makes their Guild Leader most proud. "Going into this phase we set out to build on our core and find even more talented players to bolster our ranks in preparation for the official launch. So far we've exceeded our own expectations and couldn't be happier with our additions this phase."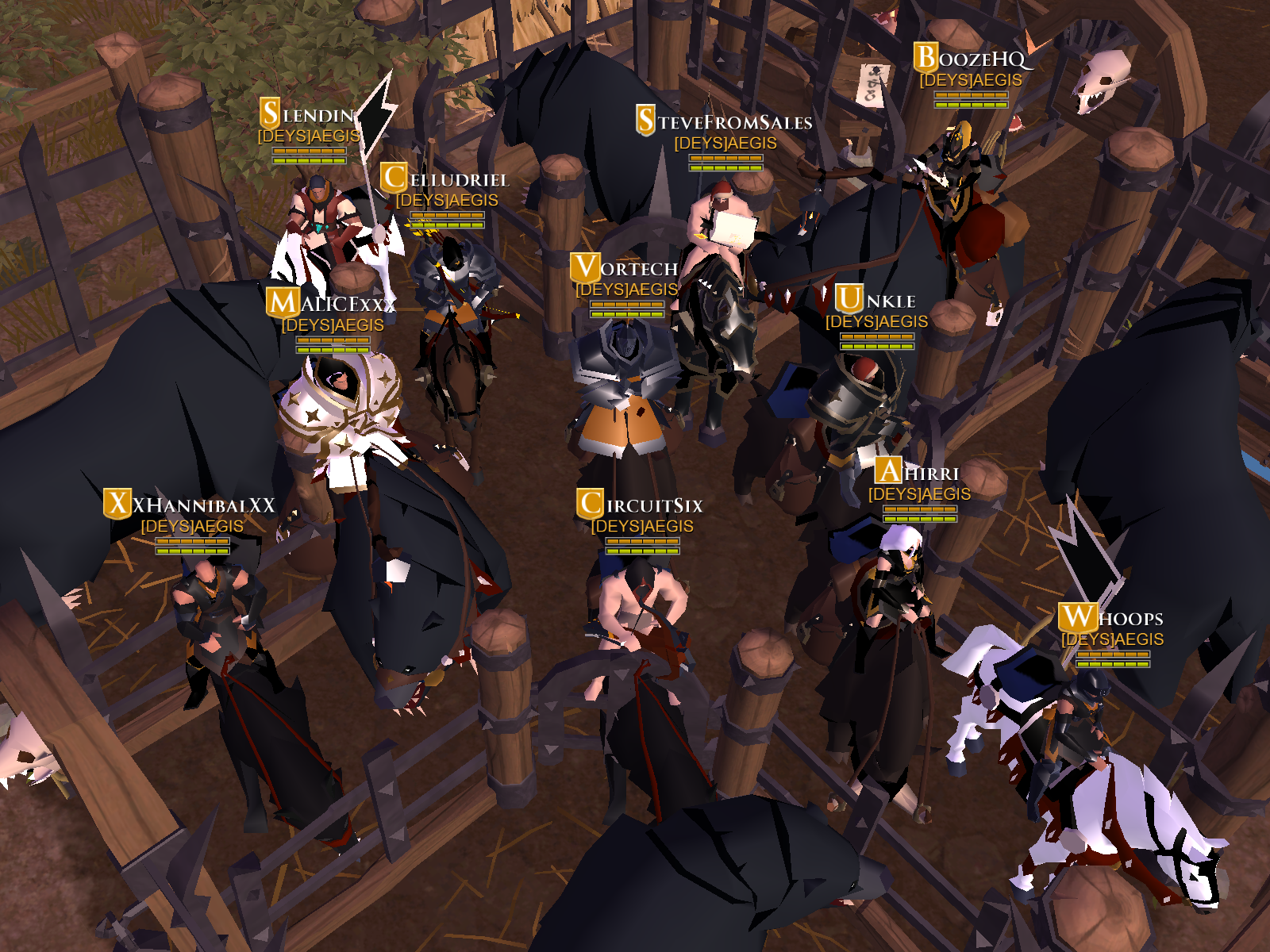 Looking towards the future, Aegis plans to focus heavily on continuing to develop their core-infrastructure that has led them to where they are today. "Our plans moving forward are to selectively recruit new members and train them to become core for launch. We'll develop a system to assist our members better understand their character development; covering everything from individual builds, matchups, and overall group compositions. We value a player's quality over our overall quantity."
Their future endeavors are clear, and Vortech seemed to be very confident that their forward-planning will take the guild to the next level. "Developing these methodologies will help us succeed in conquering the East with KDS and potentially push the West continent. Ultimately, we will also further develop our policies and procedures in preparation for the official launch," explained Vortech.

Aegis has not only has displayed a strong performance during Closed Beta, but they have also dedicated the time towards setting forth community endeavors such as the 'Albion Podcast', hosted by their very own Trinket. The podcast features a panel of Albion Online personalities that discuss everything from patch notes and balance changes, to GvG meta-shifts.
It is clear that Aegis is focused on pulling together the community more than anything, both externally and internally. "What we are creating is a community of dedicated players that not only support our members in game but as well as real life outside of the game. Aegis members are family," explained Vortech. Ultimately, they have proven to the community that Aegis is an organization that will be around for a long time.
Share stories of your encounters with Aegis on our forums.