This news article was automatically parsed from the official Albion Online website.
Posted by PrintsKaspian (Source)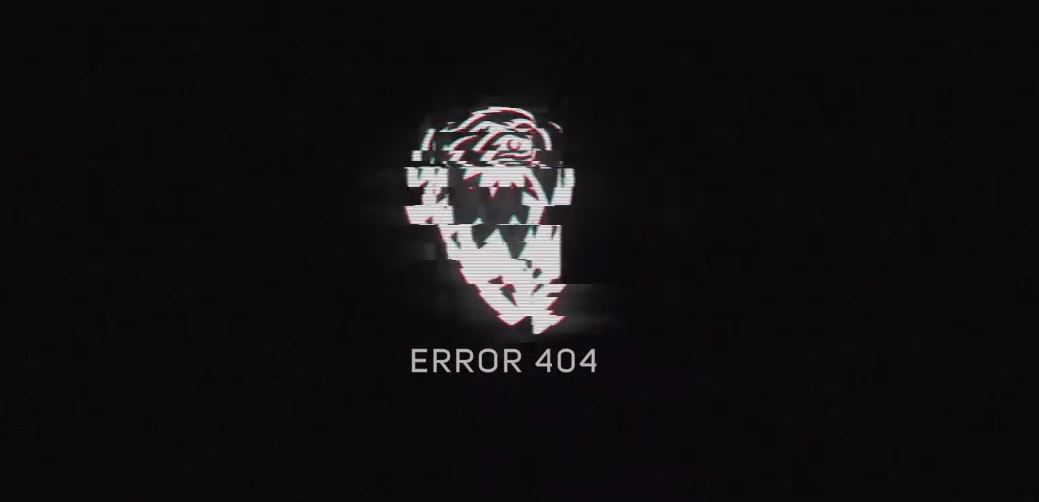 The end of Guild Season 7 in late October, coupled with the launch of the Queen update less than 3 months later, presented a unique challenge for the guild season timeline. On one hand, it was too long a period for guilds to languish without competition and leave territories unclaimed. On the other hand, the massive changes coming with the Queen update (including open-world territory control and the Crystal League) meant that any seasonal warfare would have to conclude before these new systems were put in place.
Thus, the Avalonian Invasion was born. With its emphasis on new and unpredictable PvE enemies, as well as increasingly frequent territory resets, the Invasion served as a unique, shorter "Event Season" that allowed guilds to compete not only with each other but also with a new elite faction. After a teaser video that introduced the Avalonians, the season kicked off on November 13 with the appearance of Avalonian enemies and world bosses in the Outlands, and Albion's most unique guild season to date was underway.
War Gods took an early lead, though by the end of November they were overtaken by Error404. Veterans and two-time season winners Money Guild ran a huge number of GvGs and claimed territories throughout Albion, while Error404 maintained an impressively steady run of Crystal Realm Battles. The territory reset on December 7 saw Crimson Imperium Reborn emerge from the shadows to claim numerous territories, but their resurgence fizzled as many of these were lost to the powerful SQUAK alliance.
As Money Guild switched their focus away from GvGs and toward improving their ZvZ team, though, the gap between them and Error404 increased. With the territory reset on December 23, Error404 and RAQ both surged ahead in total points, with the latter surpassing Money Guild and rising to second place.
In the final weeks of the season, dark-horse guild Black Order began to dominate the leaderboard, rising to pass Money Guild and eventually even RAQ. When the dust had settled and all the points were tallied, it was Error404 in first place, followed by Black Order, with RAQ in a close third.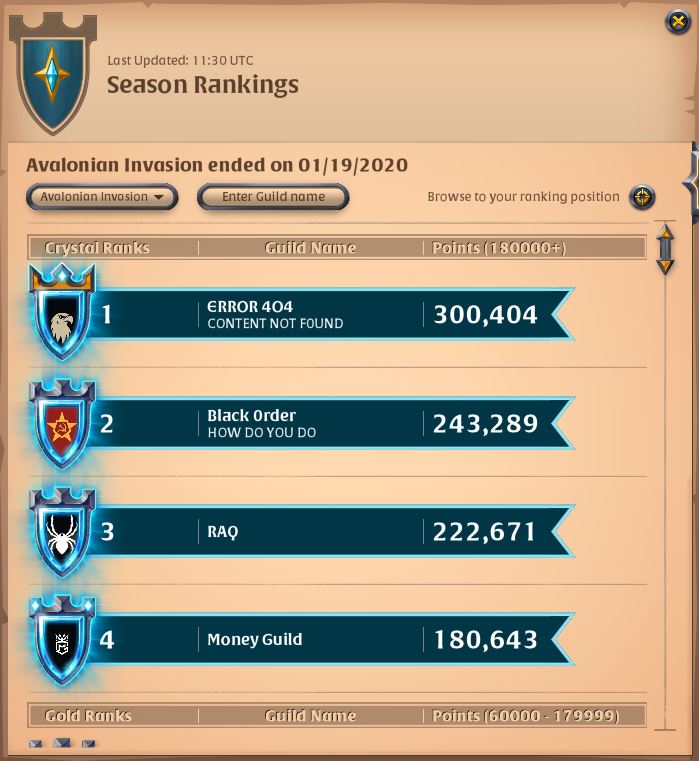 Though not a new guild, Error404 has never before cracked the top 10 in final season rankings, making their victory especially impressive. With the massive changes to territory control and the new emphasis on open-world fights, Season 8 is ripe for the claiming.
For now, Caerleon's finest stonecarvers are hard at work on a memorial statue to be placed at the former Realmgate. Word has it that this statue will honor the three highest-ranking guilds of the season, so that their names will make the place where Caerleon made its final stand. Be sure to visit once it's complete, and pay tribute to RAQ, Black Order, and most of all, Albion's newest champions Error404!
Season 8 begins on Saturday, February 1 (see the full schedule and list of changes here). With the triple threat of a new Outlands continent, updated territory control system, and the all-new Crystal League, the season is anyone's to win.
See you on the battlefield!