This news article was automatically parsed from the official Albion Online website.
Posted by PrintsKaspian (Source)
The Lands Awakened update launched November 24, ushering in a new era of open-world gameplay in Albion Online. Along with sweeping changes to biome graphics and layouts, dungeons, mobs, open-world objectives and Guild Seasons, the update brought some major quality-of-life improvements to a wide variety of ingame activities. In our latest Dev Talk, UI Designer Moritz Bokelmann discusses some of the biggest improvements to UI and usability that arrived with this latest update.
No time to watch, or prefer a written summary? Then read on...
Marketplace Loadouts
Loadouts were introduced with the Call to Arms update as a major quality-of-life improvement, and this feature has now been expanded to include the option to directly purchase full Loadouts from the Marketplace. How it works:
New tab added to Marketplace UI to allow purchase of Loadouts
Allows users to designate which Loadout to look for, and what quantity
Marketplace then searches all local Sell Orders for the items, using parameters set in Loadout creation
Can purchase alternatives if one or more items are unavailable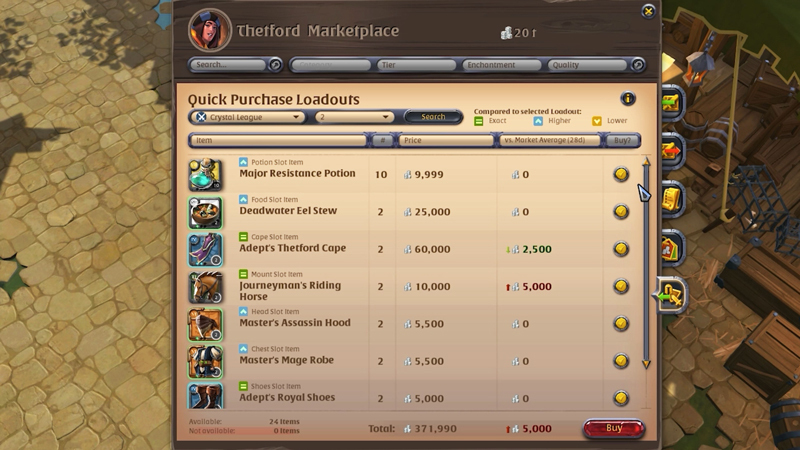 Once the search is completed, the Marketplace shows a summary of available items and alternatives. Details:
Shows prices of available items
Compares each item to market average
Each entry can be toggled to buy or skip
Does not reserve the items, so they may be purchased by others. If so:

Unavailable items appear on a separate screen alongside alternative suggestions
This screen generates a new search if any alternatives are selected
Farming Usability Improvements
Farming is an essential part of Albion's economy, but on a large scale can take a long time and lots of clicks. Alongside small improvements (simplifying animal placement, moving T2 hide animals) the number of clicks farming takes has been greatly reduced:
All farming actions can now be performed by shift-clicking (double-tapping on mobile)
Steps are unchanged, but opening the farming interface is not required, reducing clicks/taps greatly
Shift-click actions include a distinct icon above the crop or animal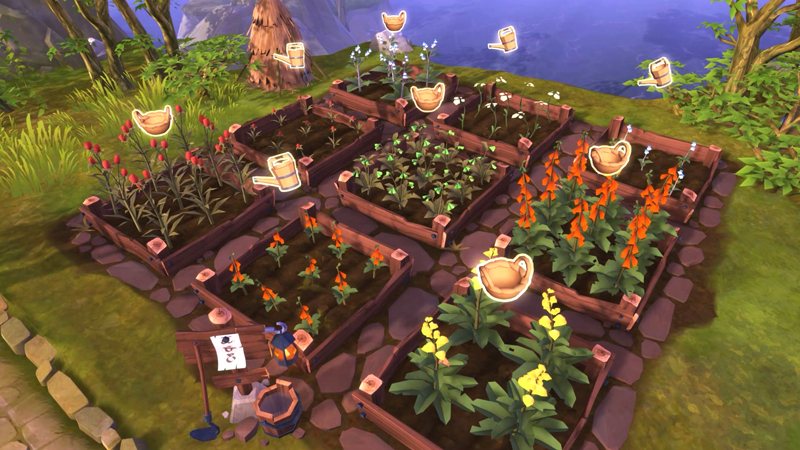 New in the UI:
Animals with growth and production stages now have a "Take all" option
Can be toggled to pick up the animal and its product or offspring
Can be set persistently based on the animal
Party Improvements
Lands Awakened brings updated party chat commands for better feedback and easier party formation:
In addition to using /invite to invite a player, a new /join command sends a request to join another party
Both /invite and /join now work for entire parties

With /invite, the inviting party's leader retains leadership
With /join, the leader of the party being joined will stay the party's leader

All solo and group invite and join requests can be expanded to show player details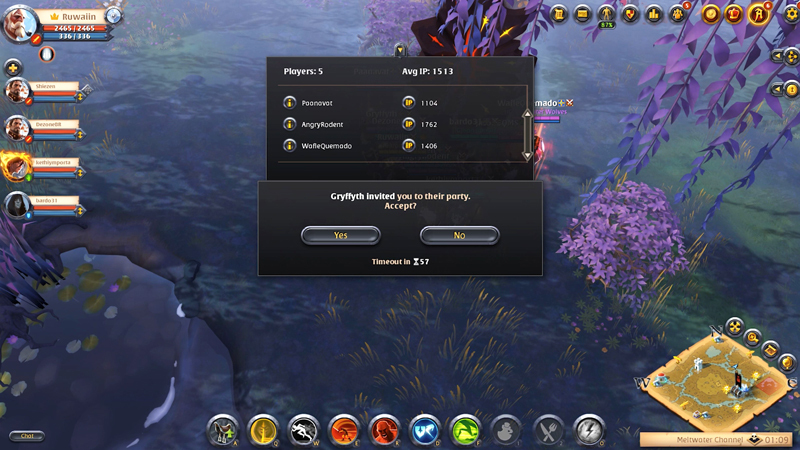 In your Social settings you can now clearly define who can invite you to their group or request to join yours. Additionally, you can always use the /snooze chat command to temporarily suppress all party invitations.
We can't wait to hear your feedback on these changes, and of course we already have more quality-of-life improvements lined up for the next updates, so stay tuned!